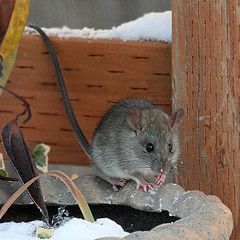 The only type of mouse that brings a smile to most people's faces is Mickey Mouse down in Disney World. If you are like most, you'd prefer that mice stay far away from your home. The image of a mouse tip toeing across your kitchen floor may cause you to spill your coffee on your lap! If what we are describing is a real life situation that you are experiencing, it is important that you seek professional help. If you see one mouse, there are more than likely others that you haven't seen. For those living in Plymouth, MN, you are in luck as our dedicated staff at Minnesota Wild Animal Management Inc., specializes in mouse infestation services.
Mouse Removal Animal Damage Repair
The first objective for our staff is to identify all of the mice in your home. Once they have been identified, we will humanely capture and remove them from your property. It doesn't take much space for a mouse to enter your home, so you may be surprised at the number of mice that we find. The unfortunate news about mice is that they often times cause damage to your home. Over the years, our team has found damage to the structure of homes, electrical wiring, A/C units, furnaces, insulation and attics. Quickly, these mice can turn into an expensive repair job. At Minnesota Wild Animal Management Inc., we take pride in being your one stop shop for both mouse infestation removal and pest damage repair. It doesn't take much for these pests to live off of, so it is important to remove them from your property as quickly as possible.
Leave it to the Professionals
Mice are not the cleanest animals in the world. In fact, many of these rodents carry various diseases and parasites. The last thing you want is for someone in your household to pick up a disease or parasite from an unwanted mouse in your home. The minute you notice mouse droppings or the first time you see one running across your floor, give our expert animal removal team a call so that we can set up a time to inspect your home. Not only can we safely remove these rodents and repair any damages caused by these animals, but we can also provide preventative measures to ensure that these mice do not return!
Once our professional animal management team gets rid of your unwanted mouse infestation issues in Plymouth, MN, you'll be able to sleep better at night with the confidence that your home is mice free! If you are in need of humane mouse removal services or if you'd like to have the contact information of a reliable pest removal and repair team, give our staff at Minnesota Wild Animal Management Inc., a call today at (612) 237-8282.