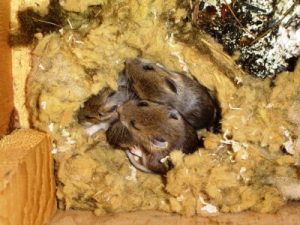 It's that moment when you hear little, tiny feet scurrying downstairs. Even worse, perhaps it's that moment when you feel something scamper across your feet! It's not uncommon to have a mouse problem in your home. At Minnesota Wild Animal Management, Inc., it's our job to keep them out. If you are looking for mouse removal in Bloomington, MN, consider your professionals at Minnesota Wild Animal Management, Inc.
Identifying Mice Infestations
While we do offer mouse removal and retrieval, the more correct term is likely "mice removal." What may start out as one simple mouse can quickly multiply within your home, wreaking havoc on just about everything. It is easy for a mouse to find a way into your home. Their tiny bodies can squeeze through even the smallest of cracks and spaces. In fact, we've witnessed mice crawling through a hole as small as a marble. You may not notice the first mouse for a little while, but then the reproduction begins and with time, a large group of mice can be congregating in your home. So what's so bad about having mice in your home? Mice are the most resilient pests. They don't need much food or water to survive, but the damage they cause can be quite expensive. Mice have been known to cause structural damage to the home, destroy wiring running through attics, insulation and even causing electrical fires from all of their chewing. They also carry different parasites and diseases like ringworm and salmonella. Therefore, if you see a mouse or feel like you may have a mouse problem, it's important to solve it right away.
Our Mouse Removal Process
At Minnesota Wild Animal Management, Inc., our professional removal experts are more than capable of handling any type of mouse removal you're dealing with. While mouse removal can be difficult to do on your own, our experienced team of professionals use well established processes and techniques to remove these rodents in their entirety and prevent them from returning. When you call our expert mouse removal team, we will find a convenient and flexible time for us to meet with you and inspect your home. We will identify the nesting area of the mice and formulate a plan to effectively treat your home and eliminate the problem. There are never any hidden fees or charges with Minnesota Wild Animal Management, Inc. With our knowledge and experience, we are able to accurately quote your services. We then get to work on mice removal, taking the proper steps to safely and effectively remove the mice. Once they are gone, we will repair the damage they may have caused and work to implement preventative measures so that these pesky pests never return again.
We are so confident in our mouse removal services in Bloomington, MN that we offer a two year warranty on all of our services. For more information about mouse removal in Bloomington, MN, contact Minnesota Wild Animal Management, Inc., today at (612) 785-1414.