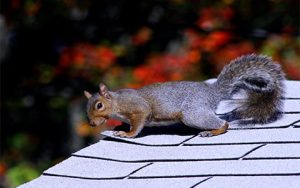 The temperatures are beginning to cool down and when you live in Minnesota, that means that it is time to spend more time indoors. With average winter temperatures well below freezing for the winter months, your home becomes your safe haven for the winter season. Now is the perfect time to make sure that your home does not attract unwanted guests like wildlife that are also looking for warmth and shelter from the cold. Squirrels, birds, mice, raccoons and other wild animals may try to make their way inside your home this winter to avoid the cold, snowy weather. Many animals can gain entry through a very small area and build a nest somewhere in the walls of your home, your attic or even your garage. These animals may mean no harm but they can cause costly damage, bring in dirt and bacteria and be difficult to locate.
Wild Animal Prevention, Removal and Damage Repair in MN
The professionals at Minnesota Wild Animal Management are experts in locating the wild animal that has gained entry into your home, removing it safely and humanely and repairing any damage left behind. In addition, we can also evaluate your property and identify potentially vulnerable areas so that the animals cannot get inside in the first place. Preventing animal entry can save you time, money and stress. Once critters get inside, they will try to find food and water and may even chew through wiring and insulation, which can be a big problem for you.
Our team has experience preventing entry and removing birds, bats, mice, raccoons, squirrels, chipmunks, snakes from homes. We believe that these animals are invading our spaces because we have invaded theirs, so we do all that we can to remove and relocate them humanely. This time of year is a very busy one for our staff. As the temperatures drop, we always see more wild animals entering homes.
24/7 Wild Animal Removal Services
We realize that you may figure out that a critter has entered your home over a weekend, overnight or even on a holiday so we have a 24/7 emergency phone number you can call anytime: 763-785-1414. We understand that your home is likely your most important investment and it is important to protect it this winter from unwanted guests. Minnesota Wild Animal Management can handle all of your wild animal prevention, removal and repair needs. Our staff is friendly and professional, and our prices are some of the most affordable in the area.