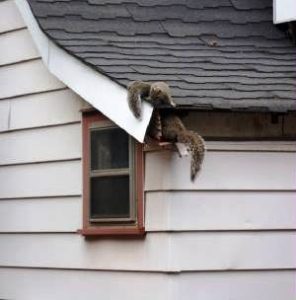 A home inspection is a crucial step in the home-buying process. It will let you know if there are any areas that need attention before closing the deal. The inspections typically include checking the heating and plumbing, as well as checking for mold or roof leaks. Typically, however, these inspections do not include checking for wildlife damage or whether any wildlife are living in the attic. Most home inspectors fail to spot signs of wildlife damage or entry points, which can pose a problem for homebuyers.
Where wild animal damages are likely: While there are many spots where wild animals can enter a home, the areas that need to be especially checked for wildlife damage before you buy a house include the attic, insulation, soffit and soffit gaps, fascia and drip-edges, roof vents, gable vents, wall vents, window frames, shingles and eavestroughs, and the chimney.
Attic space contamination: Attic contamination and damage are most caused by raccoons and squirrels. They are often responsible for the buildup of urine, droppings, and food. This problem can lead to serious health problems, especially for those who have allergies. If wildlife has lived in an attic for long periods of time, without being noticed, it can significantly and dangerously contaminate the attic with bacteria viruses and parasites, causing a variety of health problems for pets and humans. It is a good idea to inspect your attic for any wildlife before you move into a home. Also, ask the owner if they have ever removed wildlife.
Repairing wild animal damage: What is the cost?: Repairing wild animal damages to a home can cost anywhere from a few hundred dollars up to several thousand. In some cases, the repair of home damage can cost more than $10,000! It can be expensive to decontaminate and restore an attic. Homeowners are often forced to repair their attic if it is damaged. Problem is, if they don't decide to fix the problem, they may pass it on to other homeowners. This is an all-too-common scenario!
Insurance typically does not cover wild animal damages to homes: Insurance companies typically do not cover damage from common intruders like squirrels, bats, and mice. While wildlife damage is not usually covered by most home insurance policies you should still call your insurer to find out how they would handle your case.
Obtain A Wildlife Inspection Before You Buy Your House
If you're in the Twin Cities metro area, call Minnesota Wild Animal Management for a pre-purchase home inspection. We offer both wild animal removal services, inspections for entry points and damages incurred by the animals, and repair services to remediate any damages. Call any of the local numbers to schedule an appointment today: (763) 785-1414 • (612) 237-8282 • (952) 881-6662 • (651) 260-7378.