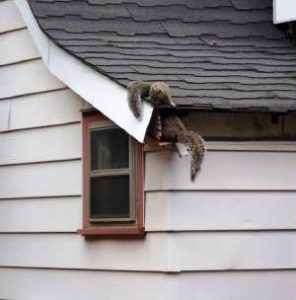 As the summer months come to a close, and the fall season knocks on our backdoors, we see the days begin to get shorter and the nighttime temperatures begin to drop. Everyone seems to be eager for the cooler temperatures of fall to arrive, but as the temperatures drop, wildlife creatures' activities will be on the rise. Creatures will begin to seek out warmer spots to rest and as the food sources on trees become scarcer, animals get a little bolder in seeking out food (i.e., inside the perimeter of your home or business). Some of the animals that will do this, starting in the fall, are squirrels, mice, possums, and rats, to name a few.
The time to prepare for this activity is now. Use the last of the summer months to prepare your home or business. Find the entry spots and seal them up now! If you need help in identifying some spots that critters could enter your dwelling from, call the professionals at Minnesota Wild Animal Management.
Wild Animal Food Sources And Entry Points
Wildlife creatures are just about always seeking out food and water in order that they can survive. During the fall months, natural food sources from trees and bushes begin to diminish and some creatures begin to hibernate. This causes other creatures to get more creative in their daily hunt for nutrition. One of the most common intruders are the raccoon and the possum. Their number one source of food around the house or place of business is the trash cans. These pesky critters can hop on top of a canister and have the contents all over the place! To keep these critters at bay, we suggest ensuring that the trash fits completely inside the canister and that the lid is closed and secured with a bungee cord or the like. Raccoons also climb and will join squirrels, mice, and/or birds in finding an open gap into your home or business. Take the time to seal any gaps or open holes in the walls. Also look at screen attic vent covers, as well as ensuring chimney accesses are covered with screen/mesh.
Landscape Maintenance For Animal Invasion
I know you're probably wondering what having a nice lawn does to deter wildlife. Keeping your yard well maintained will eliminate many, if not all, places to inhabit by ridding your lawn of piles of leaves, brush, and debris. Ensure that any tree limbs near the roofline are cut back so that critters cannot use the branches to access your rooftop and enter in through eaves or the chimney.
Preventing wildlife from finding their way into your home or business is not impossible. Let the professional wildlife control experts at Minnesota Wild Animal Management help you safeguard your property this fall. If you find yourself dealing with the invasion of some type of wildlife, call the team to come out and rid you of your "visitor" right away. If you have an immediate need, call (612) 237-8282. Otherwise, call any of these convenient phone numbers to schedule an appointment: (612) 237-8282, (763) 785-1414, (952) 881-6662, or (651) 260-7378.