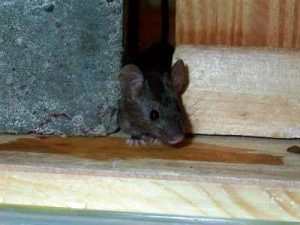 Minnesota Wild Animal Management Inc. specializes in helping homeowners prevent mice from entering your home and eliminating them if they already have. Mice multiply very quickly and can be extremely difficult to get rid of. And, let's face it, they can elicit fear and anxiety in part because they are difficult to catch and they like to get into our food! Preventing them from ever entering your home is much easier than managing an active mouse problem.
As the temperatures begin to cool, a wide variety of pests look for warmer places to spend the winter months. Mice may be the LAST pests you want to settle into your home. Here are three tips from keeping mice away this season:
● Eliminate all potential entry points: Mice can squeeze into even the tiniest openings (¼ of an inch and larger), so this is a difficult task. Sealing cracks in the foundation and in your walls is a great way to keep mice outside of your home to prevent mice infestation.
● Keep your home clean and sanitary: Mice are attracted to food, so to the extent you can keep your home clean and crumb free, you will not entice mice into your home. Vacuuming, securing your garbage and wiping down your countertops regularly are great steps to take.
● Mouse traps: Mouse traps are a effective way to get rid of a few mice in your home. It is important to note, however, that many homeowners underestimate how many mice are really living in their home. Mouse traps cannot manage a moderate to large infestation and if you believe that you have more mice than a single mouse trap can handle, then it is time to seek the help of a professional.
Prevent Mice Infestation in your Home
Our team of professionals can identify all vulnerable points in your home. We will complete a thorough 17 point checklist of your home and we do not miss one square inch. Our team does our job so that you can have peace of mind knowing that you will not have to battle a mouse problem this year (or ever). We are so confident in our mice prevention services that we will provide you with a two year warranty on our work. We will do the job right, the first time. For more information about our mouse prevention services, call Minnesota Wild Animal Management Inc. at (612) 237-8282.