Most people can all agree: moles can drive you crazy. If you are like most homeowners, you've tried it all–from chemicals to home remedies–to get rid of the pesky critters. Not only are these methods ineffective, but they also allow the animals time to establish and become a real issue for your yard.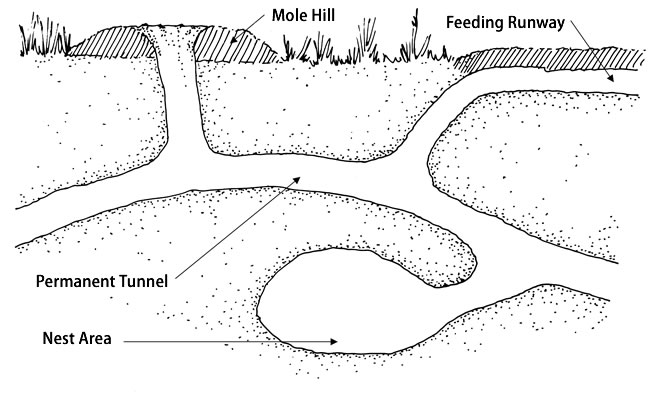 Moles are woodland animals in nature, but can quickly find a cozy home under your yard if not handled properly. Moles need a well-established tunnel to scurry back and forth. The longer they are allowed to build more tunnels, the harder it will become to control.
A mole's diet is restricted to ground bugs like grubs, millipedes, ants, so a mole will be more than happy to call your yard its home for a very long time.
Why are Moles a Residential Issue?
Moles are problems in homes and businesses because of:
Restrictions on or loss of habitat — construction, drainage changes, and chemical runoff can interfere with a mole's natural home.
Artificial landscapes — Most landscaping depends on artificial or chemical means of keeping lawns and beds looking nice. Organic materials such as mulch and top soils being about insects which are the perfect breakfast, lunch, and dinner for moles.
Unreliable methods of control — There are no chemical solutions to a mole problem and trapping is the most reliable method of control.
Stay away from poisons; they just don't work!
Poisons, while difficult to purchase, may kill moles, but they can also kill other living things such as birds. Homeowners who own pets or have small children are at a serious risk to the poisons as well.
Pesticides are also something to stay away from. These chemicals are used to destroy the mole's food supply, but they can harm way more including plant life, wildlife, pets and children.
If you have a mole problem, leave it to the experts at Minnesota Wild Animal Management Inc. Give us a call today at 763-785-1414, we can help!