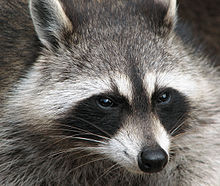 Raccoons are very interesting creatures. They are nocturnal so they sleep during the day and are most active at night. They are very intelligent creatures, can communicate with each other, and have amazing dexterity, allowing them to open things you might only think humans can. Raccoons have been known to open doors, trash cans, bottles and latches. Since we are often asleep when they are most active, we do not often see them in action, but they will leave their signature if they have visited your property –– tipped trash cans, raided bird feeders, damaged gardens and even torn shingles. If you think that you have a raccoon problem, Minnesota Wild Animal Management Inc. can help.
Common Raccoon Damage
Raccoons can wreak havoc on your property, spreading trash all over your lawn as they scour the area for food, uprooting gardens and even damaging your roof and getting into your chimney or attic area. They like to nest in small areas and females give birth in the spring so if you happen to have them on your property, reproduction can compound the problem. Raccoons in rare cases carry rabies, so it is always a good idea to have a professional service remove them in a humane way so that you can be confident you will not have to worry about them on your property any longer.
Minnesota Wild Animal Management Inc.: Experienced, Professional and Competitively Priced
The technicians at Minnesota Wild Animal Management Inc. have more than 35 years of combined experienced humanely managing wild animals in a wide variety of settings. We are very familiar with all common animals in the area that routinely invade homes, business and other property. Not only can our team remove creatures that invade your home, we can also take measures to help prevent future problems. We understand that your life is busy and you have a lot on your plate–let our team take this worry off your mind. Our prices are some of the most competitive in the area, and include no surprises. All of our services are backed by a two year warranty for your peace of mind. We can also repair any damage to your property that the critters have caused.
If you think you have a raccoon problem on your property, give Minnesota Wild Animal Management Inc. a call today. Call 952-881-6662 during normal business hours, or call our 24 hour emergency line at 763-232-7296 or 612-237-8282.