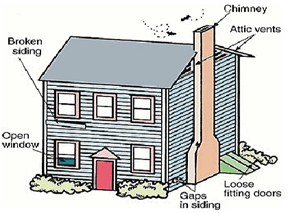 When you think of wildlife management services, you might envision professionals dealing with raccoons, squirrels, or bats. However, there's an often-overlooked service provided by Minnesota Wild Animal Management that's worth its weight in gold: Rodent-Proofing. In this blog post, we'll delve into the significance of rodent-proofing and why it's a valuable asset for homeowners in Minnesota.
The Unseen Threat: Rodent Infestations
Rodent infestations, including mice and rats, can be a silent menace to your home. These small creatures can squeeze through tiny openings, contaminate your living spaces, and damage your property. Here's why rodent-proofing is a service you should take seriously:
● Health Hazards: Rodents are notorious carriers of diseases, including Hantavirus, Salmonella, and Leptospirosis. Their droppings, urine, and fur can spread these pathogens throughout your home, posing significant health risks to your family.
● Property Damage: Mice and rats are relentless chewers. They'll gnaw on electrical wires, insulation, and structural elements of your home. These destructive habits can lead to costly repairs and potential fire hazards.
● Food Contamination: Rodents are adept at finding their way into your pantry and food storage areas. Once inside, they can contaminate your food supply, leading to foodborne illnesses.
● Noise and Stress: The constant scurrying and scratching of rodents in your walls and ceilings can be unsettling and stressful. Rodent-proofing helps eliminate this source of anxiety.
The Rodent-Proofing Solution
Minnesota Wild Animal Management's rodent-proofing service is a comprehensive solution to safeguard your home against these unwanted invaders. Here's how it works:
● Thorough Inspection: Our trained technicians conduct a detailed assessment of your property to identify potential entry points and assess the extent of any existing infestations.
● Sealing Entry Points: We use high-quality materials and techniques to seal gaps, cracks, and openings where rodents can enter your home. This includes sealing around utility penetrations, windows, doors, and foundation vents.
● Installation of Barriers: In areas where rodents are known to access your home, we may install barriers like door sweeps, mesh screens, or rodent-resistant vents to prevent entry.
● Education and Prevention: We provide homeowners with valuable information on preventing future rodent infestations. This includes recommendations for proper food storage and waste management.
Rodent-proofing might not be the first service that comes to mind when you think of wildlife management, but it's an essential tool in protecting your home, health, and peace of mind. If you suspect or have experienced a rodent problem in your Minnesota home, don't hesitate to contact Minnesota Wild Animal Management.
Our rodent-proofing service is your secret weapon against these unwanted intruders. By taking proactive steps to secure your home, you can ensure a safer and healthier living environment for your family. Reach out to us today to schedule a comprehensive rodent-proofing assessment and say goodbye to unwelcome rodent guests for good!