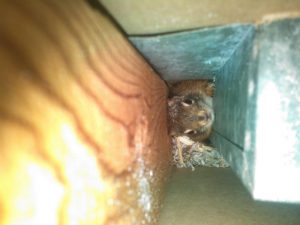 Rodents can be extremely difficult to remove from your property. They can be difficult to find and trap and they can hide, nest and reproduce in areas that you cannot easily access without the proper equipment. In addition, where there is one rodent, there are likely others. Minnesota Wild Animal Management Inc. specializes in comprehensive rodent removal in Minnesota. Our team can locate rodents no matter where they hide and remove them from your property once and for all.
Rodent Removal, Damage Repair & Prevention in MN
Minnesota Wild Animal Management, Inc. has experience removing all types of local rodents including rats, mice, squirrels, and chipmunks. Whenever possible, we remove these rodents in a humane way, because we understand that they are invading our space in large part because we are invading theirs. We respond to your call quickly and begin our work by thoroughly inspecting your home or business, removing any (and all!) rodents found in and around your property, repairing any damage that the rodents have left behind, and taking measures to prevent any future animals from entering. We stand behind our work with a two year warranty, which is one of the best warranties in the business!
Rodents can carry disease and bacteria and are generally attracted to the food in your home and are looking for shelter and warmth. They are extremely good at hiding and often chew or create holes in order to find a safe place to stay. You may hear them scurry around your kitchen at night or hear them scratching in your attic or garage. If you are lucky, you will just hear them and not actually run across them face to face. It is unlikely that there is a single rodent in your home – they very often travel together. We can get rid of all rodents that are in and around your home quickly, safely and humanely.
Experienced MN Rodent Removal Specialists
If you are concerned at all that you may have mice, rats, squirrels or chipmunks in or around your home, do not delay, call the team at Minnesota Wild Animal Management Inc. so that we can rid your home (or business) of these pesky critters. Our team has more than thirty years of combined experience and we know the rodents of MN well. You can schedule rodent removal service by calling us at one of the following numbers: (763) 785-1414, (612) 237-8282, (952) 881-6662, (651) 260-7378.