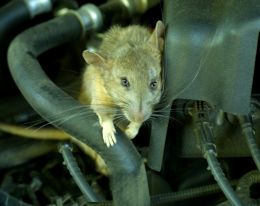 Have you spotted signs that indicate a possible rodent problem in your Minneapolis home or rental property? If so, don't hesitate, call the wildlife removal experts at Minnesota Wild Animal Management for rodent removal services right away! While some see rodents as furry and cute, your home is no place for these unwanted guests. Rodents are wild animals that have the potential to carry and spread diseases such as rabies and typhus, and to introduce fleas and parasites into your home. Once they invade your home, rodents have the capacity to do an incredible amount of damage to your home or rental property in a surprisingly short amount of time. If you see signs of a rodent invasion in your Minneapolis home or rental property, or if you are not quite sure if what you are seeing is a sign of rodents, the experts at Minnesota Wild Animal Management are here to assess, control and even help you prevent future invasions of rodents.
How Do You Recognize A Rodent?
Rodents are the largest group of mammals and can thrive in a variety of conditions, which in part, makes it a challenge to control them. Most have smaller bodies, short limbs, and long tails. Rodents reproduce rapidly, which also contributes to their flourishing existence. What sets rodents apart from other mammals are their razor sharp incisors that constantly grow. With persistence, rodents can gnaw through some of the sturdiest and thickest of materials, which is how many gain entry into homes. Many times, even the smallest of holes in a building are enough for rodents to squeeze into in order to find food and shelter. So what animals are rodents? The more common rodents in Minneapolis and the surrounding areas are rats, mice, and squirrels. Many people ask if rabbits and moles are considered rodents. Technically, they aren't rodents, but that doesn't matter, whatever type of wildlife is taking up residence on your property, Minnesota Wild Animal Management's rodent removal service of Minneapolis is prepared to handle it.
How To Handle A Rodent Infestation
Have no fear, whether you are sure you have a rodent infestation, or if you merely suspect you've got a few unwanted visitors, your first step should be to call the wild animal removal experts at Minnesota Wild Animal Management. We are experts at determining what type of animal your visitor is, searching for the entry point, removing the rodents in a humane manner, and working to prevent future pest invasions.
24/7 Emergency Animal Removal Service In Minneapolis
Offering over 35 years of professional animal removal experience, you can trust the experts at Minnesota Wild Animal Management to protect you and your Minneapolis home from pesky rodents.  Call us today, 24/7 at (612) 237-8282, or complete our online contact form to contact our expert animal removal professionals.