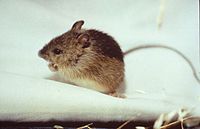 Shhhhh! What's that sound in the kitchen?  Is it mice, or even a rat who have taken over your house?  Do you hear them scurrying around at all hours of the night?  If so, it's time to call in Minnesota Wild Animal Management, Inc., your leading provider of St. Paul rodent removal services.  With decades of experience getting rid of pesky rodents, you'll be in good hands when you pick up the phone and call Minnesota Wild Animal Management today!
24/7 Rodent Removal Services
Even if it's 2am in the morning and you're surprised at the site of a not so cute little mouse as you enter your kitchen for a late night snack, know that we're here for you.  We offer 24/7 emergency services to ensure our customers that we're always available when the need arises.  We understand the fear that rodents can cause for some of our customers and we'll do our best to come to your home or office as quickly as possible after you give us a call.
Rats and Mice Can Be Difficult to Get Rid of
Rats and mice are some of the toughest pests to get rid of.  They can enter in through extremely small holes, reproduce incredibly quickly and can live off just about any type of food scraps found around your home.  Not only are these rodents annoying, but they can actually cause damage to your home or office as well.  Common damage caused by rodents includes damage to wiring, attics, insulation, A/C systems and furnaces.
Diseases and Parasites Carried by Mice and Rats
Whether you have rats or mice in your home, both species are not especially clean.  They can often carry a variety of diseases and parasites, such as salmonella and ring worm.  Further, their droppings and urine can be difficult to clean properly as well.
Call the St. Paul Rat and Mice Experts Today
Stop trying to perform your own rodent removal services with DIY tactics that don't seem to work, and give the rodent removal experts at Minnesota Wild Animal Management, Inc. a call today.  Feel free to call us 24/7 at 612-237-8282 to schedule a time for one of our wildlife removal experts to come out to your property to assess any rodent damage.  Remember, that not only can we get rid of your rodent problem, but we offer a robust warranty that will ensure these pests won't return!  We look forward to hearing from you soon.