Roof Snow Removal Service Twin Cities Metro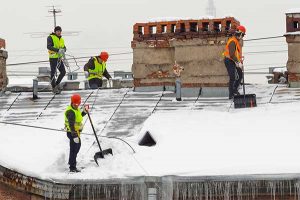 With winter fast approaching, do you have a snow removal plan in place for your home? If not, you're in luck as our team at Minnesota Wild Animal Management is more than up to the task of handling your snow removal needs this winter. If you don't have a plan to get rid of the snow from your roof this winter, you could be in for some very expensive repair bills! Go ahead and line up a snow removal company now so that you'll be able to relax regardless of how much snow we get this year in Minnesota.
What Type of Snow Removal Do We Provide?
It's important to understand the type of snow removal that we provide here at Minnesota Wild Animal Management. We do not offer snow removal for your driveway or sidewalks, but we do offer snow removal for your roof. We use roof rakes to remove snow from your roof to prevent snow from building up and ultimately causing damage to your house, or even to you and your family if it were to slide off your roof.
Why Do I Need to Remove the Snow From My Roof?
There are a number of reasons why you should keep snow from building up on your roof. A few of these reasons for snow removal include:
Safety – Snow can be extremely heavy, both in terms of added weight on your roof, but also if snow were to fall off of your roof and strike you or one of your family members. It's best to hire a snow removal company to keep snow off of your roof. This way you never have to worry about an avalanche of snow coming off your roof and falling on your head as you're entering your home.
Prevent Ice Dams – Ice dams are formed when accumulated snow on your roof begins to melt and makes its way towards the edges of your roof where it then refreezes. Over time this can lead to large mounds of snow forming on your roof, which can cause significant damage to your home.
Protect Your Roof – Snow is extremely heavy and if you're not able to keep it from accumulating on your roof you could be looking at major issues down the road. Each inch of snow that accumulates on your roof translates into a large amount of added weight on your roof. As the snow continues to pile up on your roof, there could come a point when your roof can't support the added weight and collapses. This is an absolute worst case scenario, but it's definitely possible if you're not investing in roof snow removal during the winter months.
Beware of DIY Roof Snow Removal
You may be asking yourself, why can't I remove the snow from my roof? Well, the answer is that you may do more damage than you intend. You want to avoid damaging shingles, gutters and other roof components, which could lead to costly leaks. In addition, anytime you're dealing with large amounts of snow and heights you're at risk for an injury. At Minnesota Wild Animal Management, we have years of experience providing snow removal for customers all throughout the Twin Cities area.
Snow Removal Packages
If you're looking to completely turn your snow removal needs over to our team this year, you'll likely want to invest in one of our snow removal packages. These packages provide you with a set number of snow removal visits and these visits actually roll over from year to year. This allows us to have a sense of the demand we need to prepare for and it gives you a more budget friendly snow removal option. Feel free to reach out to our team today to ask more about these affordable snow removal packages.
Contact Our Team Today to Schedule Snow Removal This Winter
While we'd love to serve all of the residents throughout the Twin Cities area, we do have our limits! To be sure you're on the schedule this winter, feel free to reach out to us now at (763) 785-1414.