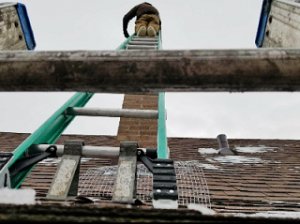 Having birds around your property brings beautiful sights and wonderful sounds. That is, as long as they keep their distance from our actual home. At Minnesota Wild Animal Management, we regularly get calls from homeowners in Minnesota requesting our safe bird removal services. We're here to ensure that these birds don't try and turn your home into their own.
If given the chance, birds will try to build a nest and find shelter in different areas around your home. The common locations where birds try to nest and find shelter include the garage, under decks, and inside your attic and vents. The issue with this is that these birds can actually carry parasites like lice and mites which you don't want anywhere near your home. You don't want your home to become the breeding grounds for harmful bacteria and parasites that could harm you, your family and your pets. Our dedicated bird removal professionals will safely remove these birds from your property so that no one gets harmed in any way.
Removing Birds Safely
We understand that you'd like to get these birds and their nests away from your home but trying to remove them on your own could cause harm to both yourself and the birds. Removing them on your own puts you in direct contact with potential bacteria and parasites. Additionally, if you interfere with the nest and any eggs, the mother will likely not return to care for the baby birds. So, it is best to leave the bird removal process to our experienced team at Minnesota Wild Animal Management. We specialize in removing birds safely so that both the homeowner and the birds are not harmed.
Bird Proofing Your Home
Once the birds are safely removed from your property, we can focus on bird proofing your home. Our expertise in bird prevention services allows us to guarantee our work. We guarantee our clients that these birds will not be able to enter back into your home in the future. Just removing the birds is half of the process. Preventing them from re-entering in the future is arguably the most important step and we can handle this process for you as well.
If birds have invaded your home in Minnesota and you are looking to get them safely removed, look no further than Minnesota Wild Animal Management. Offering affordable pricing from highly experienced professionals, give us a call today at (763) 785-1414 to schedule a bird removal and prevention appointment.