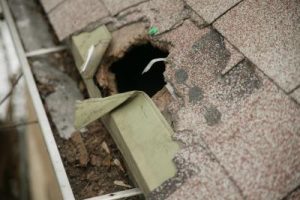 Just as human beings tend to spend more time outdoors when the weather is warm, so too do our furry friends. And, just as human beings tend to spend more time indoors when the weather turns colder, rainier, icier, and snowier, so too do our furry friends. There is a major distinction, however, between us and our furry friends: These critters do not have the ability to build modern homes with central heating and soft, cushy places to sleep. That is why so many of us find, usually to our great surprise, that we have uninvited house guests when the weather gets colder.
Wild Animal Removal And Damage Repair
The raccoon is probably the cleverest of the critters that take up residence in our homes. Raccoons are fascinating in many ways. They are intelligent and seemingly domesticated, much like dogs and cats. They have been habituated to humans by centuries of sharing the land with us, though very few of us domesticate them. Their intelligence manifests in problem solving skills, such as figuring out how to work their way into your attic or crawl space without your knowledge. When they figure out how to do it, they use their strength to make their entrance. A common way for raccoons to enter your home is to find a weak point, such as a heating vent, and either bend it so that they can squeeze through or remove it altogether.
Humane Raccoon Removal
Even the most observant homeowners do not frequently check their heating vents and other weak entry points for evidence of a raccoon family, so it is possible that you have had raccoons living in a part of your house for some time. Adult raccoons are not only clever and strong, they are also capable of being very quiet, meaning that they can live comfortably with you without you knowing for some time. Younger raccoons tend to be the ones to call attention to your visitors. They are playful, and their wrestling often leads to thumping and vocalizing that reveals their secret activity. As close to household pets as raccoons can seem, however, they are not domesticated and cannot safely remain in your home. When you become aware of raccoons in your home, it is time to call Minnesota Wild Animal Management. We can safely and humanely remove the raccoon family from your home. Call us anytime at (612) 237-8282 and we will be happy to help you.