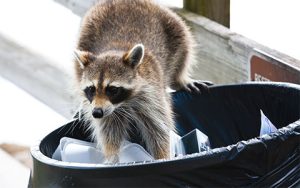 As the summer season transitions into fall in Minnesota, it's not just the leaves that are changing. Wildlife activity tends to increase as animals prepare for winter, potentially leading to unwanted encounters around your property. To help you proactively protect your home, Minnesota Wild Animal Management offers valuable insights on preparing for potential nuisance animals during this transition.
Inspect Your Property for Vulnerabilities: Start by conducting a thorough inspection of your property. Look for openings or gaps in your home's exterior, such as loose vents, damaged roofing, or unsealed chimneys. Nuisance animals often exploit these vulnerabilities to gain access to your home.
Secure Trash and Food Sources: Fallen leaves and ripening fruits can attract wildlife seeking food. Ensure that your trash cans have secure lids, and consider using animal-resistant containers. Additionally, pick up fallen fruits and keep them away from your home.
Trim Overhanging Branches: Overhanging branches can provide easy access to your roof and attic for squirrels and raccoons. Trim these branches to prevent animals from using them as a bridge to your home.
Seal Entry Points: Identify potential entry points for nuisance animals and seal them promptly. Use materials like steel mesh or foam to block openings. Be thorough in your approach, as animals can squeeze through surprisingly small spaces.
Check Screens and Vent Covers: Ensure that all your window screens and vent covers are intact and securely attached. Animals can tear through damaged screens or push through loose ones.
Secure Your Attic and Crawlspace: Attics and crawlspaces are prime targets for wildlife looking for a warm, sheltered place to nest. Inspect these areas for signs of intrusion and install proper barriers like screens or vents with animal-proof covers.
Keep Bird Feeders Away: Bird feeders are a lovely addition to any yard, but they can also attract squirrels, raccoons, and even bears. If you use bird feeders, place them at a distance from your home to discourage wildlife from venturing too close.
Professional Wildlife Inspection: Consider scheduling a professional wildlife inspection. Experts like Minnesota Wild Animal Management can identify potential problem areas and recommend preventive measures tailored to your property.
Practice Responsible Feeding: If you enjoy feeding wildlife, do so responsibly. Use designated feeding areas and appropriate food. Overfeeding can encourage animals to become too comfortable on your property.
Learn about the common wildlife species in your area and their habits. Understanding their behavior can help you anticipate and address potential issues.
Fall is a beautiful season in Minnesota, but it also marks a period of increased wildlife activity. By taking proactive steps to safeguard your home against nuisance animals, you can enjoy the season without the worry of unwanted guests. Remember that prevention is often more effective and humane than dealing with animal intrusions after the fact. If you do encounter any wildlife-related issues, don't hesitate to reach out to professionals like Minnesota Wild Animal Management for humane and effective solutions.