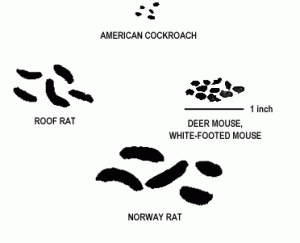 Have you recently noticed animal droppings in your home, garage, attic or around the exterior of your Minnesota home? If it's not the kind that your dog leaves around, it is best that you leave the animal droppings removal process up to the professionals. You may be wondering why you need to pay a professional to remove feces from your home. The reason is because the droppings left behind by many animals can be harmful if you come into contact with them. At Minnesota Wild Animal Management, we have been providing professional animal droppings removal services for years and are here to help you get your house free of feces and sanitized.
Danger Of Feces In Or Around Your Home
The animal droppings left behind in and around your home are the perfect breeding grounds for bacteria and diseases. If you don't quickly remove the feces from your home, the bacteria and disease can get worse. There are lots of precautions that our dedicated animal dropping removal team goes through to ensure that they are safe during the removal process. For instance, our experts always wear a mask, gloves, etc., to ensure that they do not come into direct contact with the feces. Especially with certain animals like bats and raccoons, their feces can be very dangerous to deal with. Not wearing a mask while removing bat guano can cause you to become extremely ill. Direct contact with raccoon feces means that you may have come into contact with parasitic worms that reside in these feces. These worms can also make you very ill and can even lead to death.
Leave It To The Professionals
As you can see, trying to save a little bit of money by removing these animal droppings from your home is not worth the risk. It is best for you to leave this difficult process up to our professionals. Not only do we have the right equipment and experience to remove the animal droppings, but we know what to look for as well. We will perform a detailed and thorough inspection of your home to make sure that all animal droppings are identified. From there, we will safely remove the animal droppings from your home. Last, but not least, we will sanitize any area where the animal droppings were found, so that your home is clean and safe going forward.
If you have noticed animal droppings inside or around your Minnesota home, it is time to take action. Team up with our professional animal droppings removal team at Minnesota Wild Animal Management and let us safely remove the feces from your property. To schedule an appointment, give us a call today at (763) 785-1414.