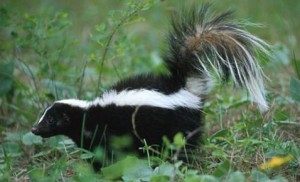 If you have ever seen the cartoon PePe Le Pew, you know that this charismatic French skunk desperately wants to kindle the flames of love with Penelope, a black cat with a misplaced white paint stripe on her back. While this cartoon makes for a great laugh, the nature of the skunk couldn't be more wrong! Minnesota Wild Animal Management, Inc. should be your first call when you need a skunk removed in your Hopkins, Minnesota home.
Why Should I Worry?
While we all know that when skunks get scared or need protection, they spray a horrible smell to ward off predators. So, while you may not mean harm to this black and white creature, you may end up wearing their cologne anyway! They can also be annoying digging in your garbage cans and eating all your bird food. Additionally, and most importantly, the majority of skunks carry rabies. With one bite from their sharp teeth, you may end up in the hospital. If rabies isn't treated, it is deadly.
Skunk Removal Hopkins
 Our team of experts will schedule an appointment with you in order to assess the skunk situation and damage. After providing you an estimate for the removal, repair, and prevention, we will let you decide whether to move forward or not. Though, we have confidence you will move forward! Then, we will humanely remove the pests from your home or office, and then we will repair the damage they cause to your structure. After repairing the walls, floors, or electrical wiring (whatever may need to be done), we will put preventative measures in place to make sure the critters don't return to your Hopkins, MN home or office!
Our Skunk Removal Experts
Minnesota Wild Animal Management, Inc. has over 35 years of experience removing skunks and all other forms of wildlife. It is important to us that animals are removed in a humane manner. We know that often time humans destroyed or invaded an animal's space. They come into our homes or offices because they no longer have a habitat or place to call home. Our professionals are flexible and work around your schedule, and we promise no surprises when it comes to the cost of animal removal and repairs to your Hopkins home or business. We have an A+ rating with the Better Business Bureau and are a five time Super Service Award winner on Angie's List!  Call us at (763) 785- 1414 at time, day or night, to set up your skunk removal appointment. We take emergency calls too!