Skunk Spotting?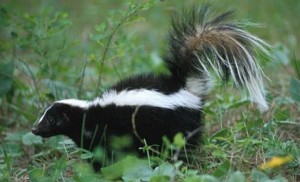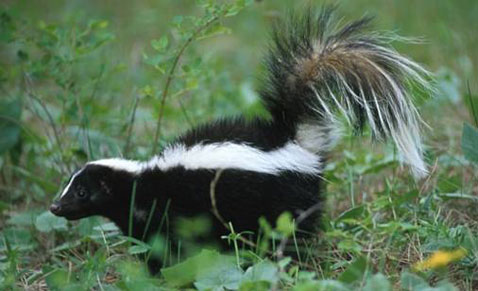 Have you seen a double striped rodent out of the corner of your eye? Or maybe it looked more like a black rodent with white spots… Regardless of what you saw on your Minneapolis, MN property – it's time to call a professional animal control expert. Minnesota Wild Animal Removal uses the most humane methods to rid your property of its untamed.
When thinking of a skunk, there are commonly two reactions – one being disgust, due to their ability to produce and spray an extremely putrid smell; the other is affection – because of the cartoons that portray this romantic, beady eyed animal, with an accent. But regardless of the impression a skunk has on you, it's not a wise move to mess with them. Though they aren't an overly aggressive or territorial, they are wild and can harbor diseases such as rabies or leave you smelling quite nasty – for a while.
What Kinds of Skunks Live in Minnesota?
Minnesota is home to 2 different skunk species, the most common is the Striped Skunk and the scarcer of the two is the Spotted Skunk. They look just as their names sound, double, white stripes and white little polka dots.  Skunks are actually members of the weasel family.
Where do Skunks live?
Skunks create dens. The dens they create could be under your patio, deck or porch, in your properties thick brush and any other areas that provide the right amount of accessibility and cover. They have litters of anywhere between 3 and 10 young and the little ones are off to fend for themselves by around 2 months of age.
When are Skunks Active?
Skunks are nocturnal, they get around and hunt during the night but it's not uncommon to see a mother and her babies in the day. Skunks become dormant in the winter, so they seek shelter from the cold and aren't seen until the temperatures come back up in the spring. They eat almost anything they can find, from insects to birds, eggs, trash, smaller mammals, fruit, frogs, lizards and anything else they come across.
Why do Skunks Spray?
Fear. Skunks are more afraid of us than we are of them. And though not that hard to believe, skunks aren't too fond of their smell either, which is why they use other defenses before the 'big guns' come out. A skunk will commonly run up a tree or freeze in place before they spray…but that doesn't mean they won't use their smelly defense or even bite you, like any wild animal. Skunks can spray from up to 15' away, so watch out!
Professional Animal Removal Minneapolis MN
If you smell something a little worse than funny, see holes in your yard, or figure out that that black thing running around your yard is definitely not a cat – Call Minnesota Wild Animal Removal! We have the proper experience, equipment, tools and know-how to humanely remove the skunk/s living off your land and we will take the appropriate measures to prevent any other animals from coming back.
Call us today at 612-237-8282, or fill out this online form!