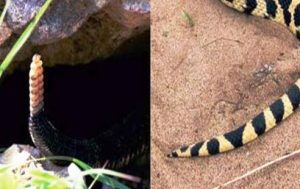 For some, seeing one snake around their home is enough to send them into a minor panic attack, but if you've seen several snakes near your home, you could be dealing with a snake nest. If so, it's important that you contact a snake nest removal company as soon as possible. At Minnesota Wild Animal Management, we have a team of expert snake removal technicians that would be happy to come out to your home, or place of business to determine where a snake nest may be located.
Signs of a Snake Nest
Below are a few signs that you may be dealing with a snake infestation around your home or business:
Snake skin around your property – One of the most common signs that you may have a snake infestation around your property is the presence of snake skins. While snake skins are often commonly found in the wild, if you start to notice them around your home, it's time to call a snake nest removal company as soon as possible.
Snake eggs – You'll often find snake eggs in the late summer and early fall. Do not attempt to remove any snake eggs that you may find. You should contact a snake removal company if you find what you think could be snake eggs.
Snake odors – Snakes can have a very distinctive odor. If you notice a smell in a crawlspace or other area that wasn't there before, it could be due to a snake infestation.
Snake tracks – If you're investigating an area such as a crawlspace and notice tracks, it could be due to a slithering snake.
How to Prevent a Snake Infestation
Below are a few ways you can help prevent snakes from nesting around your home:
Trim back any tall bushes or vegetation around your home.
Remove any piles of wood or debris around your property because they can attract pests such as snakes.
Because snakes can be attracted to the presence of rodents, it's important to remove items like trash and food as quickly as possible.
Call Minnesota Wild Animal Management Today for all Your Snake Nest Removal Needs
If you see a snakes on or around your property, it's time to call in the wildlife experts at Minnesota Wild Animal Management today. We can be reached by phone 24/7 at 763-785-1414, or through our online contact form to schedule service.