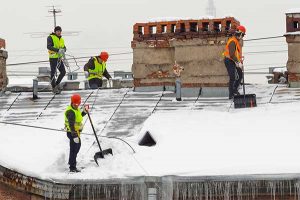 It's gearing up to be another busy fall and winter here in Minnesota when it comes to snowfall! Do you have a plan to deal with snow removal this year? As you likely know keeping snow off of your roof is incredibly important to protect the integrity of your roof and ultimately your entire home. Don't make the mistake of going into this winter without a company that can help you with snow removal this year. At Minnesota Wild Animal Management, we offer snow removal and ice dam removal services in the fall and winter because we've seen so many of our customers without anyone to call when major snow storms come through the area.
What Type of Snow Removal Do You Provide?
There are a number of different types of snow removal, but at Minnesota Wild Animal Management, we focus primarily on roof snow removal. This means that we'll come to your home throughout the winter to remove the snow from your roof primarily using roof rakes. While some homeowners may try this on their own, it can actually be quite dangerous, especially when you're dealing with large amounts of snow that have collected on your roof.
Roof Snow Removal Helps Prevent Ice Dams
Ice dams can be extremely damaging to your home. Over time they can build up on your roof and cause water to make its way under your shingles and into your home. This can lead to major structural damage to your home. The best way to prevent ice dams is with roof snow removal. This is why we've started offering this service to our growing list of customers in the Twin Cities area.
Gain Peace of Mind With Snow Removal Packages
Another service we're extremely excited about offering this fall and winter is snow removal packages. This way you can purchase a set of snow removal visits to ensure your roof stays clear this winter. This helps us to better budget our snow removal resources and helps you to save a bit of money. Keep in mind that you can roll over unused visits to next year so it's really a win win for everyone!
Contact Us Today to Schedule Roof Snow Removal This Winter
If you're tired of trying to remove snow from your roof each winter, why not leave it to the pros at Minnesota Wild Animal Removal? We'll be happy to set you up with a snow removal package that will ensure you don't have to worry about anything even if we're hit with a blizzard of epic proportions! Call us today at (612) 237-8282 to learn more!