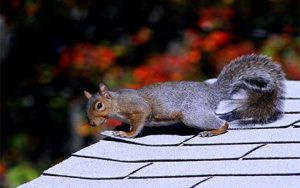 Seeing playful little baby squirrels running around St. Paul may be cute or amusing but having them scurrying around in your attic is something else entirely. The squirrel population in the Twin Cities has become a nuisance for many residents. By the time you hear scratching noises or the pitter patter of little feet running around above your head or inside of the walls, the damage may have already been done. Minnesota Wild Animal Management, Inc. provides safe, professional, humane removal of squirrels in and around the city of St. Paul, MN. Our services include live trapping, damage repair and sealing holes to prevent further problems from these furry intruders.
Interesting Squirrel Facts
Minnesota is home to several varieties of squirrels. These critters can cause a lot of damage if they get inside of a house, a business or another kind of structure. Though squirrels are very common in St Paul and suburban area, you may be surprised to learn some interesting facts about Minnesota squirrels.
Types of squirrels living in Minnesota include the gray squirrel, red squirrel, fox squirrel and flying squirrel.
Depending on the type of squirrel, they mate once or twice a year and can produce 2 to 5 babies in each litter.
MN squirrels can act more aggressive in the fall when they are gathering food for the winter.
Squirrels can cause a lot of damage by chewing electrical wires, wooden decks, wall studs, siding, soffits, insulation and vents or by nesting and soiling inside of attic spaces, chimneys and walls.
St. Paul, MN squirrels could be a public health concern by carrying parasites, fire hazard from chewing on electrical wires or biting the hand that feeds them.
Noises from squirrels can include chattering, chirping, whistling, scratching and chewing.
Squirrels love to hang out around bird feeders where they are quite sneaky at eating the birdseed.
Humane Removal of Nuisance Squirrels
Minnesota Wild Animal Management, Inc. provides fast, efficient and humane removal of nuisance squirrels in St. Paul. Our skilled technicians are trained to find where the squirrels have gained access, caused damage or become a problem. Professional squirrel removal services include live trapping the animal, repairing and cleaning up the damage and methods to prevent further problems.
In St Paul MN, call today for an Appointment at (651) 260-7378, (763) 785-1414, (952) 881-6662 or (612) 237-8282.
24/7 Emergencies call: (612) 237-8282