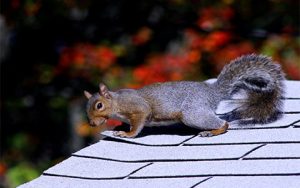 Squirrels are cute, little animals from a distance. We don't think of squirrels as animals that try and enter our homes, but the truth is that sometimes they actually do. The unfortunate news is that if they do make their way into your property, they can cause some pretty significant damage. So, if you have found yourself in this predicament and are looking for a reliable squirrel trapper near you in Minneapolis, our team at Minnesota Wild Animal Management, Inc., ready to assistance you. We will get the squirrel or squirrels trapped right the first time.
Reasons to get rid of Squirrels
Don't let their cuteness fool you. Squirrels are not an animal that you want hanging out inside your attic, crawl space or home. As a squirrel trapper near you, we've seen the damage that these animals can do to a property if they are not removed in a timely manner. First off, if a squirrel has made their way into your home, they may be looking to nest and prepare for their litter. Squirrels have two litters a year and they have between 3 to 5 squirrels per litter on average. You do not want your home to become breeding grounds for these squirrels. Another reason to contact our squirrel trapper to remove a squirrel is that they are notorious chewers. They'll quickly chew through wires, vents, insulation, decks, siding, ceiling, etc. These quick and elusive animals are able to enter your home through very small areas such as your attic, soffits, fascia, walls, chimney, etc.
Full-Service Squirrel Trapper
As a reliable squirrel trapper near you in Minneapolis, MN, we are proud to offer our clients full services when it comes to squirrel removal. Squirrel trapping is just one part of our services. At Minnesota Wild Animal Management, Inc., we also provide squirrel cleanup and sanitation services as well as squirrel prevention. Our overall goal is to get rid of the existing squirrels on your property and to make sure that they don't come back any time soon.
If you have found or heard a squirrel inside your home, attic or crawl space, it is important to consult with a professional squirrel trapper as soon as possible. The good news is that you have an experienced squirrel trapper near you that is eager to safely and humanely remove the squirrel(s) from your Minneapolis property. All you need to do is contact Minnesota Wild Animal Management, Inc., and our squirrel trapper will handle the rest. Give us a call today at (763) 785-1414.