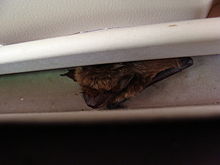 Is your house currently under siege by bats? If so, you may think that getting rid of them is an easy task. The reality is that bats carry various diseases and are extremely territorial. While there are seven species of bats that call MN home, only two live in homes and buildings around the state. The bat removal experts at Minnesota Wild Animal Removal Management Inc. have over 35 years of wildlife control experience and would be happy to rid your home of bats. In this blog we'll go over a few tips to keep in mind when looking for a Minnesota bat removal company.
Tips for Choosing a Minnesota Bat Removal Company
Make a list of local bat removal companies – This list will give you a place to start when you are looking for someone to help with your bat problem.
Check company credentials with the local Better Business Bureau – Once you have a list of companies ensure that they have a strong reputation with the local Better Business Bureau.
Discuss details with each company – You want to hire bat removal experts not necessarily pest removal experts. While some companies may be great at removing ants or other insects, safe and effective removal of bats requires a much different approach. A company that specializes in wildlife control will likely have the experience to ensure that the bats are removed from your home or business and that they do not return.
Ask for references – Companies that offer effective bat removal methods will happily offer testimonials from satisfied customers. This will ensure that the methods that will be used will actually work.
Discuss exclusion methods – It's one thing to get rid of the bats that you currently have, but it's also important to prevent new bats from easily reentering your home or business.
Ensure company follows all local ordinances – Bats are protected by a variety of ordinances because of their dwindling population. Ensure that the company that you are working with will do everything in their power to safely remove bats from your residence.
Contact the Bat Removal Experts Today!
Minnesota Wild Animal Removal Management Inc. understands the frustration that bats can cause in and around your home. Stop worrying about how you are going to rid your house of bats by giving us a call today at (612) 237-8282. We offer 24/7 emergency service to ensure that we are available whenever you need us.