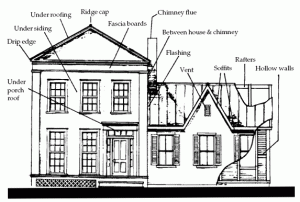 It happens more often than you might think – a family or homeowner realizes that a bird has flown in through an open door or window, a bat has made its way inside, a mouse leaves evidence of its presence with droppings in a kitchen cabinet, or a snake finds a new home in your garage. That moment when you realize that you are sharing your home with a wild animal often leaves a panicked and helpless feeling. How will you catch it? How will you remove it? Will it die somewhere in your home before you can remove it? Those are just some of the questions that might race through your mind. Fortunately, the staff at Minnesota Wild Animal Management Inc. can help you with humane wild animal removal so that you do not have to worry!
Safe And Humane Wild Animal Removal
Our staff specializes in wild animal control for property owners in Anoka County Minnesota. We can remove birds, bats, chipmunks, mice, raccoons, squirrels and even snakes. Our first priority is getting these wild animals removed from your house as soon as possible. Our second priority is doing it in a safe and humane way. That is part of our mission, after all, it is not the animal's fault that they wander into your home. They are likely looking for food and/or shelter, not sending your household into a panic. We can locate the animals, identify the likely entry point, repair it and any damage that is left behind. In addition, we can make sure that we search for any additional wild animals that may not have been seen. We will leave your home clean and protected from future wild animal issues.
24/7 Wild Animal Control Services
When you find that a wild animal is sharing your space, you want it removed immediately. Our team of professionals understands the urgency that you feel and will respond 24/7 – day or night, weekends or holidays. We will answer your call and give you an approximate time that we will arrive to help you. Our first step will be to inspect your property, figure out where the animals might be hiding and/or nesting and then safely remove the animal(s). Once the removal process is complete, we will repair any damage that may have been caused and ensure that the entry site is secure so that you do not have a future issue. So, if you find yourself sharing space with an unwanted guest, call the team at Minnesota Wild Animal Management Inc. anytime at (763) 785-1414 • (612) 237-8282 • (952) 881-6662 • (651) 260-7378.