Minnesota Deer Mouse Removal
Deer mice can also be a problem in heavily wooded areas. To a homeowner, observing a scurrying little rodent dashing across his or her kitchen floor, a mouse is a mouse. However, it is important to distinguish between deer mice and common house mice.  Because their biology and behaviors are different, the controls and tactics used by pest control professionals to resolve these rodent infestations are different as well.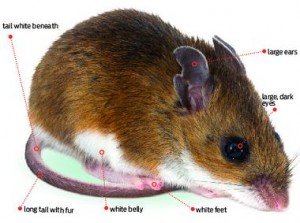 The white-footed deer mouse can be distinguished from other mice by their striking bicolor pattern. It has a light brown to black with a white underbelly from the tip of the long tail to the tip of the chin. Slightly larger than the house mouse, it has bigger ears and eyes. In addition, the tail on the house mouse has almost no fur on it, whereas the tail of the deer mouse is moderately to well furred and is light underneath and dark on top.  These mice are commonly found in forested areas living inside burrows, logs, stumps or wood piles, under rocks, or in hollows in trees.
The deer mouse is nocturnal, and is most active at twilight. Winter activity takes place mainly under snow rather than on its surface. Deer mice rarely leave their homes during the day, but feed opportunistically at night on whatever is available: seeds, nuts, fruit, berries, insects and other animal matter, and whatever they find tasty in houses.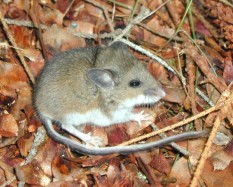 Deer mice have the most extensive range of any North American rodent, and are found in almost every kind of habitat. They climb easily, tunnel through snow or scurry about on its surface, and find shelter everywhere from mattresses to tree cavities to burrows in the ground. Populations fluctuate in cycles of three to five years, sometimes correlated with the amount of food available.
The other big issue with deer mice is the fact that they are the number one carrier of the Hantavirus. The virus is found in their urine and feces, but it does not make the animal sick.
It is believed that humans can get sick with this virus if they come in contact with contaminated dust from mice nests or droppings. You may come in contact with such dust when cleaning homes, sheds, or other enclosed areas that have been empty for a long time.
Hantavirus does not spread between human. Rodents carrying the hantavirus have been found in many U.S. national parks. Campers and hikers may be more likely to catch the disease than most people. This is because they pitch tents on the forest floor and lay their sleeping bags down in musty cabins.
However, only a couple of cases have been directly linked to camping or hiking. Most people who are exposed to the virus have come in contact with rodent droppings in their own homes.
Prevent Rodent Infestations
The best way to prevent a rodent infestation and contact with rodents is to remove the food sources, water, and items that provide shelter for rodents.
Whatever kind of mouse it is, it's one is too many. No one wants mice in their home, and we all know what a pest your typical household mouse can be. Add to that the ability to climb into places your typical mouse couldn't, and droppings that can kill you.
Most experts in rodent control, say the best way to keep mice out of your house is, well, to keep them out. In other words, any opening larger than, say, a pencil, should be sealed.
Unlike insects, mice and other rodents are not capable of going dormant for the winter. While some mammals, such as raccoons, do hibernate during the winter, most simply seek a warmer shelter. Mice, rats, and squirrels actively work on building warm nests year round, often inside homes.
Don't let a rodent infestation get out of control. Because mice multiply so quickly, just a few can lead to an out-of-control infestation before you know it. If you notice droppings or signs of gnawing around the house could indicate a mice problem.
If you suspect a deer mice infestation in your home, don't wait. Call the professionals at Minnesota Wild Animal Management to come out and inspect your home. We can identify what type of rodents you may have, eliminate and sanitize any infestation, and take preventative steps to ensure your home is pest free.
Hantavirus Pulmonary Syndrome (HPS) – What You Need To Know
Facts About Hantaviruses
"Facts About Hantavirus" Brochure 
 [PDF – 182 KB]
This brochure provides detailed information for prevention of hantavirus in and around your home.