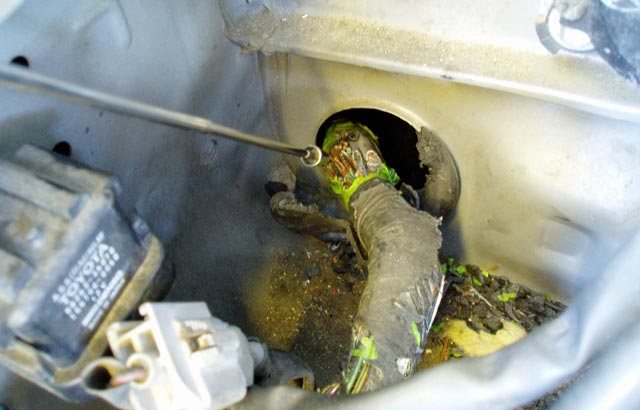 While it does not happen often, a wild animal can slip into the interior of your vehicle when you have your door open and are not looking. Mice, birds, racoons, bats, snakes and even a squirrel have been found inside vehicles. They can leave excrement, dirt and disease behind and it is not easy to find and remove them yourself. Minnesota Wild Animal Management Inc. specializes in the safe and humane removal of wild animals from homes, businesses and even vehicles. Our team has seen it all – in our line of work, nothing surprises us. We understand that your car or truck may be the LAST place you want to find a wild animal, so we make ourselves available around the clock to help remove it.
Removing an Animal from Your Vehicle
Wild animals can hide inside your car, or underneath your vehicle, causing damage and even compromising your safety and that of your passengers. If you are unaware of the critter, it can move while you are driving or even brush your leg and startle you to the point that you lose your concentration, or worse, have an accident. A wild animal underneath your vehicle can find a place to hide and can cause damage to your car. Regardless of the circumstances, the professionals at Minnesota Wild Animal Management Inc. can find the source of the issue, remove the animal, sanitize the vehicle, remove the odor, and identify and repair any damage left behind. We can locate and clean all droppings so that your car or truck is clean and safe.
Wild Animal Removal Services in MN
Minnesota Wild Animal Management, Inc. has been in the wild animal control business for more than thirty years. Finding that a wild animal of any kind has made its way into your vehicle is unsettling and even dangerous. Our crew will find the animal quickly, remove it, and then make sure that your car is clean, safe and that any damage is fully repaired. Animals are simply looking for a safe and warm place to hide. They do not mean us any harm. The fact is that wild animals and humans now share a habitat and as we build more and more, animals run out of places to go. Our team has experience with bats, snakes, mice, squirrels, raccoons, chipmunks, birds and many other wild animals. For more information about our wild animal removal services, call us 24/7 at (763) 785-1414 or (612) 237-8282.