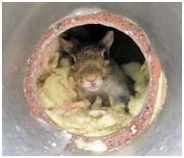 The winter weather has hit the St Paul, MN region (again) and it is likely going to stick around for a while! There is no better feeling than cuddling up under a blanket in the warmth of your own home. Be weary that critters from the outdoors are looking for a warm place to stay, as well. Sure, we love driving by wild animals like rabbits, chipmunks, or even squirrels when you are leaving the neighborhood, but none of us want to share our home with them! If a wild animal has made its way into your home, it is important to contact a professional immediately so that you do not get hurt, and neither does the animal. Let Minnesota Wild Animal Management Inc. handle all of your wild animal removal needs.
About Our Wildlife Removal Company

Our team of professionals has over thirty five years of experience in animal control. There is not an animal that we have not seen or worked with. The extra key step that we take after removing the wild animal from your home is that we give you tips on how to prevent them from coming into your home again. You will find that our competitive prices, flexible working hours, and two year warranty on our services cannot be beat. Rest assured, your situation can be addressed quickly as we offer a emergency 24 hour wild animal service number for all of our customers.
Our Five Step Process:
Notify Us – Give us a call and we will set up a convenient time for us to come evaluate your situation.
Inspect – Once a call is made, our experienced staff members will inspect your residence and identify the problems that you may have. We will also inspect for any nesting. We will provide you with a competitive quote for your review.
Removal – After you choose to work with us, we will then begin the wild animal removal process making sure all animals are removed from your home.
Repair – If there was any damage caused by these animals, we can handle all of the repairs for you so that you only have to deal with one company.
Prevention – Our service is more than just removal. We then provide preventative measures to keep these critters out of your home.
So, if you are in the St Paul, MN area and have a few unwanted critters in your home, call Minnesota Wild Animal Management Inc. today at (612) 237-8282.