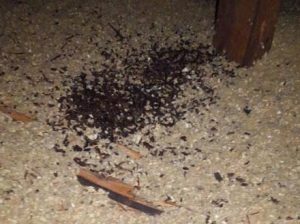 Coming into direct contact with wild animal waste can cause significant damage to humans. It's also not something that you want building up in your attic, crawl space, walls or garage. This wild animal waste cannot be cleaned up in the same way that you clean up your dog's waste. Instead, it needs to be professionally removed and sanitized by our team at Minnesota Wild Animal Management, Inc. We've got years of experience dealing with wild animal waste and we have the necessary protection to keep everyone safe.
Around the Minnesota area, our sanitation team at Minnesota Wild Animal Management, has seen homes with a wide range of wild animal waste. Some of the common wild animal waste that our staff deals with comes from the following animals:
Common Wild Animal Waste
● Bats
● Birds
● Squirrels
● Rats
● Mice
● Raccoons
Avoid Disease From Dangerous Wild Animal Waste
The key reason why you should leave this type of work up to the experts is that a lot of waste from wild animals can carry dangerous bacteria, including diseases. For instance, inhaling bat guano can be very harmful to humans. Raccoon waste can have parasitic worms, which can cause humans to get extremely sick. Rather than risk getting ill, let our team with the right protective equipment safely remove this waste from your property. We've been in the wild animal removal and cleaning service industry for quite some time and our staff has more than 35 years of combined experience. We're here to handle this headache so that you and your family can get back to living life without having to come into contact with dangerous wild animal waste.
Professional Wild Animal Waste Cleaning Services
Some companies around the area will remove the animal waste from your property, but what sets the services apart from our crew at Minnesota Wild Animal Management, is our overall professional clean. First, we'll identify all of the wild animal waste in and around your home. From there, we will safely remove the wild animal waste so that no one gets harmed from the waste. After the waste has been removed, you'll receive a professional sanitation clean to ensure that it is completely clean.
At Wild Animal Management, Inc., we hope that you'll consider putting your trust in our dedicated and experienced sanitation team. To learn more about our wild animal waste cleaning services or to notify us that you need our assistance, give us a call today at (763)785-1414.