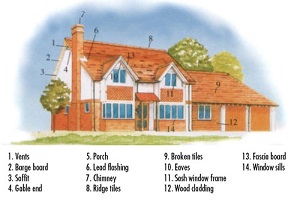 Unlike birds, most animals do not migrate to the south for the winter. The same creatures that can be a nuisance in the warmer months are the same wild animals that can cause damage to property and buildings during the winter months. It is important to know what to look for to determine if animals have invaded your home seeking warmth. There are some things you can do to prevent an invasion from taking place.
Squirrels
Squirrels are very active year-round. They store grains, berries, nuts, and seeds for nourishment. They remain relatively stationary until their food source depletes, and then move to an alternate location. Attics become attractive to them for their warmth and dryness. Squirrels can do extensive damage to your structure, insulation can be ruined, wood can become saturated with urine, and debris from the nuts and seeds may attract unwanted insects.
Skunks
Like many wildlife critters, skunks do not fully hibernate, they enter a dormant state called "torpor." Torpor is a state of reduced body temperature and metabolic rate, like a 'lethargic sleep.' However, skunks do step out to forage for food. Footprints can be seen coming from under porches, decks, and stoops if skunks have burrowed under the ground. It is possible for homeowners to go through most of the cold weather without noticing the skunks, but the damage and odor will be extensive once thawing begins. It is wise to place netting or chicken wire around any open spaces that skunks can hide and dig before the ground freezes.
Chipmunks
Chipmunks become less active in the winter and rarely leave their burrows that consist of a series of tunnels underground. They gather food like squirrels, but do not stash them in several places. Food, sleeping space, and room to move around are all available via the underground tunnels. These wild animals appear to be smarter and more efficient than their counterparts.
Awareness Of Other Animals In The Area
Homeowners must be aware that larger and more vicious animals may also be around during the winter. Food becomes scarce and temperatures drop for longer periods of time which results in coyotes, deer, and raccoons approaching properties seeking warmth and nourishment. If larger tracks are noticed, place a call to Minnesota Wildlife Management at (612) 237-8282 to discuss humane options.
Contact us today to take steps to prevent wildlife from entering and damaging your home this winter. We serve the entire Twin Cities Metro Areas and can be reached 24/7!