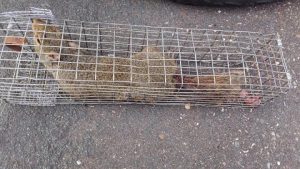 Minnesota Wild Animal Management's services help ensure that we all enjoy peaceful coexistence in harmony. Through inspection, humane removal, prevention services and preventive maintenance measures they ensure both humans and wildlife continue to coexist harmoniously in Minnesota's vibrant Twin City metro area.
Minnesota Wild Animal Management understands that every property is different, and their experienced technicians conduct comprehensive assessments to identify possible entry points and assess infestation. By understanding different wildlife species' habits and behaviors, they can come up with strategies for removal and prevention that best suits each one.
Humane removal process: Minnesota Wild Animal Management places animal welfare first by employing humane and ethical removal methods for removal. Their team consists of highly trained professionals who understand the significance of treating wildlife with kindness. Utilizing safe and efficient techniques they relocate them away from residential and commercial areas. Whether relocating squirrels, raccoons, bats, or birds into suitable habitats far off their removal process takes place safely and humanely is their aim – no matter which wildlife species this might include!
Prevention services: Once they've successfully addressed an immediate wildlife infestation, Minnesota Wild Animal Management takes proactive steps to stop future invasions by wildlife. Their specialties lie in wildlife-proofing structures using proven strategies for sealing potential entry points – sealing gaps in foundations to installing chimney caps, vent screens and animal-proof barriers as preventive measures that create an inhospitable environment for unwanted visitors.
Minnesota Wild Animal Management excels at educating their clients about wildlife management. By sharing knowledge and providing essential insights into species behavior patterns and signs of infestation as well as preventive measures, they work hard to create an educated community that values wildlife conservation while living harmoniously together with wildlife species.
Wild Animal Removal Services In The Twin Cities Metro
Minnesota Wild Animal Management stands out as an exceptional provider of wildlife management services in the Twin City metro area, setting an exemplary standard through their rigorous inspections, humane removal practices, preventive measures, and customer support – which all serve to safeguard humans and wildlife alike. Their commitment to education strengthens community ties to nature while supporting customer relationships; all contributing towards a harmonious coexistence with wildlife. If a wildlife intrusion threatens your peace and well-being don't hesitate to call Minnesota Wild Animal Management, your partner in wildlife control.