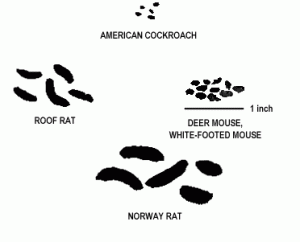 Minnesota Wild Animal Management, Inc., are the rodent removal experts of the greater Minneapolis metropolitan area.  Regardless of the type of wild animal intrusion you may be dealing with, Minnesota Wild Animal Management has the professional skill and practical experience to help you solve your problem–permanently.  Our team also understands the importance of proper cleanup after wildlife removal to restore a safe and clean environment for you and your family.
Rodent Removal Experts in Minneapolis
If you notice anything that resembles rodent droppings in or around your home, you should strongly consider contacting the Minnesota Wild Animal staff immediately.  Most property owners are understandably disgusted by the presence of rodent droppings in our homes or businesses, but not all of us understand the dangers of rodent droppings.  Rodent droppings can communicate disease.  Often, it is possible to be affected by—and infected with—airborne components of rodent droppings.  It is therefore necessary to understand the importance of proper clean-up.  Without professional experience in rodent removal and cleanup, you may not be able to do a thorough enough job to ensure that the affected environment has been properly sanitized.
It is therefore vitally important to contact Minnesota Wild Animal Management when you discover rodent droppings in your home.  The staff of Minnesota Wild Animal Management understands why, how, and where rodents enter your home, and they are equipped to remove them and keep them from returning.  More than that, they are equipped to remove these creatures humanely whenever possible.  Minnesota Wild Animal Management recognizes that we share ecosystems with animals that are not suitable as pets.
Wild Animal Removal and Prevention
The staff at Minnesota Wild Animal Management, Inc. also understands that the reason wild animals infest or invade your home is that we have invaded theirs.  Very few people wish to share their homes with bats, mice, rats, or any of the other wild animals on the long list of unwelcome guests that our team of professionals can safely remove from your home.  So our staff has developed the skills necessary to remove the offenders without exposing them—or you and your family—to toxic substances as their means of removal.
In addition to communicating disease, rodents and other wildlife can do significant damage to your property.  Minnesota Wild Animal Management is also able to repair that damage.  For a consultation with a trained and professional member of our staff call 612-237-8282
.  This is also our 24 hour emergency service line, so if you have a wildlife emergency, you can reach a member of our team anytime, day or night.