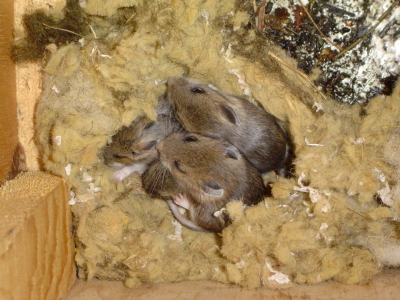 The winter season is not only cold to humans, but it can be cold to wild animals as well. Many animals are constantly seeking warmer areas to nest and sleep during the winter. For this reason, our team at Minnesota Wild Animal Management, Inc., often gets calls from our clients about an unexpected animal intruder that has entered their home. The warmth of your home is very enticing. The issue is that most animals aren't going to enter into your home through your front or back door. Instead, they find other ways to enter your home, which can end up causing significant damage to the structure of your home. No matter what type of damage these unwanted pests cause around your home, our dedicated staff specialize in winter pest repairs.
Handle Your Repairs Quickly
When damage occurs to your home, the last thing that you should do is ignore the issues. This unexpected repair expense is never something that individuals enjoy addressing, but it is necessary. If minor repairs are ignored by homeowners, they can quickly turn into significant repairs that cost much more to fix. Animals can cause all sorts of damage around your property such as wood damage, electrical wiring issues, foundation problems, vent and insulation issues, etc. What is great about a partnership with Minnesota Wild Animal Management, Inc., is that not only do we handle wild animal removals from your home, but we can take care of all of the winter pest repairs as well. We are your one stop shop when it comes to wild animal removal and repairs during the winter as well as any other time of year.
Common Damage Culprits
With more than 35 years of combined pest repair experience, our staff has seen it all when it comes to damage caused by wild animals. Quite frequently, the culprits causing damage and the need for winter pest repairs include:
Mice
Birds
Raccoons
Squirrels
Chipmunks
Bats
Many More!
two year Winter Pest Repair Warranty
Anytime you commit to professionals handling your repairs, it is important that their services are backed up by some sort of warranty. At Minnesota Wild Animal Management, Inc., our winter pest repairs are backed by a two year warranty that guarantees the repairs that we provide. This warranty simply cannot be matched by most of our competitors.
So, if you've noticed some damage caused by wild animals that occurred at your home over the winter, do not delay these repairs. Instead, pick up the phone and contact our team at Minnesota Wild Animal Management, Inc., and take advantage of our affordable winter wild animal damage repair services. Contact us today at (612) 237-8282 to learn more.