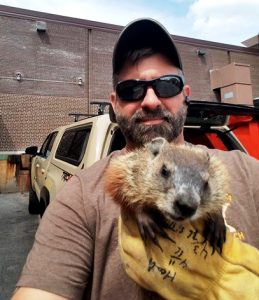 When you think of animal trapping, the first animal that comes to mind is likely not a woodchuck. However, you'd be surprised as our team at Minnesota Wild Animal Management, Inc., has been called out to properties around Minnetonka, Minnesota to assist with woodchuck trapping. These cute animals live in the area and will not hesitate to make your property their own if you give them a chance. The unfortunate fact about a woodchuck is that they can cause significant damage to your home and property if not removed quickly. So, if you've seen a woodchuck hanging out around your home, let our dedicated team perform humane woodchuck trapping services. If possible, we will relocate them as part of the service you pay for at no additional cost.
Woodchuck Inspection
Once you make the call to Minnesota Wild Animal Management, Inc., we'll make a trip over to your property for a thorough woodchuck inspection. This step of the process is extremely critical because if these animals aren't identified, they can cause lots of damage to your property and home. One of our experienced woodchuck experts will inspect every inch of your home and property. Thanks to our many years of trapping woodchucks, we know just the things to look for around your property. Some of the key signs that a woodchuck is hanging around your home include:
● Claw Markings – With 5 toes on their front feet and 4 toes on the back, it is easy for our wildlife professionals to identify the claw markings of a woodchuck.
● Plant Damage – One of the most common areas where you'll find a woodchuck is around your garden. We can evaluate your garden plants and look for their tooth marks, which usually are about ¼ of an inch.
● Soil Mounds – Woodchucks burrow into the ground. So, if we find soil mounds that have occurred around the entrances of where they are burrowing, then you likely have a woodchuck around the property.
Humane Woodchuck Trapping Minnetonka
Another great benefit to choosing Minnesota Wild Animal Management, Inc. is that our trapping process is humane, and we do our best to remove these animals without causing them any harm. Don't go to the local home improvement store and try to invest in a woodchuck trap. Instead, reach out to us and let us trap the woodchuck(s) the first time around. Once the woodchuck is trapped, we'll safely take it away from your property and release it in its natural habitat around Minnetonka.
If your Minnetonka, Minnesota property has been invaded by woodchucks, it's time for you to contact the professionals. Specializing in woodchuck trapping, give Minnesota Wild Animal Management, Inc., a call today at (763) 784-1414 to set up a detailed woodchuck inspection.