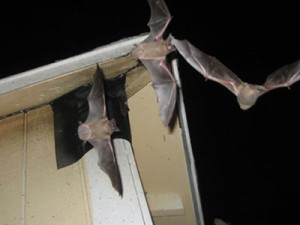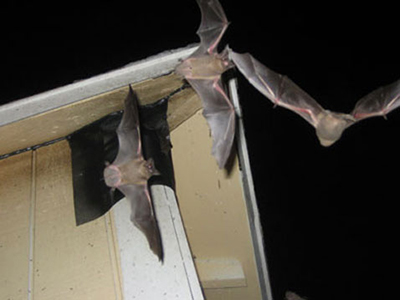 Bats live in colonies, not alone, so if you suspect that a bat may be living in the attic, walls, basement, or even in the chimney of your home, it is likely that there is more than one. Bats have been known to nest in and around homes or other inhabited property and can cause fear, concern and even a bit of panic. Bats sleep all day and are active at night, so it may take you days (or weeks) to realize there is a problem. If you live in the Roseville, MN, area and discover a bat in your home, call Minnesota Wild Animal Management immediately for professional bat control services. Our team specializes in safely removing all bats from your home and can identify the points of entry so that you can be confident that the problem will be solved permanently.
Common Signs That Bats May Be In Your Home
The most common sign that you may have a colony of bats in your home is seeing a bat somewhere in your home. You may also hear the bats. Bats are generally very quiet, but you may hear a fluttering sound, especially after a door closes or there is another loud noise. Bats make very quiet squeaking noises and scratch at surfaces when they enter or exit an area, usually in the early morning or at dusk. Finally, another sign that you may have a bat problem is if you see bat droppings anywhere in your home. The most likely locations for bat droppings, also called guano, are on walls, windowsills, or porches. They will leave the droppings just below where they are entering your home.
Bat Control Services, Roseville
Upon the first sign of bats in your home or property, you should take action immediately as they can carry diseases, including rabies. Minnesota Wild Animal Management Inc. can safely and effectively remove all bats from your property, determine where there are entering and exiting and seal off the vulnerable areas on your property so that you no longer have to be concerned. Our team of professionals has been removing bats and many other types of wild animals from homes all over the Roseville, MN area for years. We will respond to your need anytime, 24 hours a day, 7 days a week. All you have to do is call (612) 237-8282 when you need bat control or other animal control services.