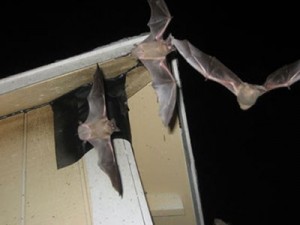 Have bats taken up residence in your home without your say-so? Are you desperate for a way to rid your home of bats for good? You need the bat exterminators at Eco Tech, where we have the training, experience, and tools necessary to remove bats from homes, repair any damage caused by bats, and prevent bats from entering your home in the future. If you want to eliminate your bat problem and ensure you don't have to deal with another bat infestation again any time soon, Eco Tech's Minneapolis, MN exterminators are the perfect solution, offering you 24-hour emergency service as well as scheduled extermination services so that you can get started with exterminating today and continue the bat removal process until there are no bats left in your home and no way for them to creep back in when you least expect it.
Expert Bat Extermination Services
Removing any pest from a home can be a difficult task, but bats can be especially tricky – especially if you have no training or experience dealing with bats. Just like any animal, bats will not take kindly to being disturbed, and they will feel threatened if you try to remove them from your home without following the necessary steps to get them out safely. As expert bat exterminators, we have the proper tools to be sure the bats in your home are ready to be removed before we begin the extermination process, using extermination methods to ensure that the bats we remove are sedated and able to be moved without any risk to you, your home, or our exterminators. We'll then remove the bats from your home, taking them with us so that you don't have to worry about them finding their way back.
Repairing Damage from Bats
Although you might not think about bats as pests that can cause significant damage in your home, bats can actually leave behind a world of problems in any area they've taken refuge in, regardless of how long they've been there. Bat feces are a common problem we encounter when cleaning homes and exterminating bats, and these feces can cause serious problems in attics, requiring repairs in severely damaged sections.
Preventing Bats from Re-entering Your Home
Preventing animals from getting into your home – or getting back into your home – is always a complicated process, but with bats, it can be extremely difficult because of their size and ability to sneak their way into your home through very small spaces and live virtually undetected for long periods of time. In order to make sure the bats we remove from your home are gone for good, we'll go through the areas of your home where bats were found, search for entry and exit points to close up, and find and repair any damage that could draw bats to your home and allow them easy access. To start securing your home against bats and eliminating your home's bat problem, contact our Minneapolis, Minnesota bat exterminators today at any of our services numbers: 612.237.8282; 952.881.6662; or 651.633.8600, or call 763.785.1414 for emergency service.