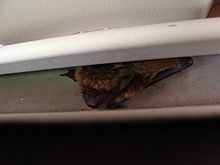 Don't you just love fall decorations? The pumpkins, the leaves, the bats? Wait, are those decorations or actually real bats? While we all love a Halloween decoration, no one wants to actually house bats in their home. If you have a bat problem in Andover, Oak Grove, Ham Lake, or Blaine, MN, let Minnesota Wild Animal Management, Inc., come and help clean it up. We offer bat removal and cleanup service for anyone that notices an unwanted surprise in their home.
Minnesota Bats
Around Andover, Oak Grove, Ham Lake, or Blaine, MN, you can find seven different species of bats. Fortunately, the majority of them do not look for dwellings such as your home. However, two of the species do: the little brown Myotis and the large brown bat. If you've ever spent any time learning or studying bats, they are actually quite fascinating. They are the only mammals that can fly, they kill a lot of insects and mosquitos around the home, and some are even endangered. No matter how interesting these creatures may be, none of them belong in your home. Now why is that exactly? Bats are known for carrying and transmitting diseases that can not only harm humans and pets, but also kill them. So when you see a bat, it's best to call your professionals at Minnesota Wild Animal Management, Inc., right away.
Transmittable Diseases
What exactly do they carry and transmit? The most common disease that you likely already know about is rabies. Bats are notorious for having rabies. So much so that if you so much as touch a bat or find it within your home, you should be checked out and possibly treated for rabies. Unfortunately, the treatment is not easy. A trip to the ER and several injections later, you'll have wished you would have just called a professional out to your home. One disease that residents may be less familiar with, but is still all the more common is Histoplasmosis. This disease is manifested by the spores that grow on bat guano. If you have a bat in your home that is dropping feces, it's important to get checked for this particular disease and have it properly cleaned!
Bat Removal and Cleanup
At Minnesota Wild Animal Management, Inc., we are your local experts that have immense experience when it comes to handling bat removal and cleanup safely. All it takes is one phone call and we will come out to your home, inspect the area, execute our plan, repair the damage and clean up their guano, and then perform preventative measures to make sure it does not happen again. If you live in Andover, Oak Grove, Ham Lake, or Blaine, MN and you have noticed a bat problem, call Minnesota Wild Animal Management, Inc., today for all of your bat removal and cleanup needs. Call us 24/7 at (612) 237-8282.