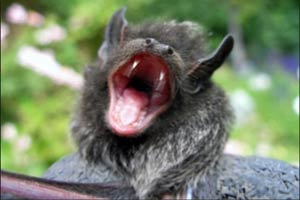 Of all of the wild animals that can get into your home, bats can cause some of the most significant problems. Bats carry and transmit diseases to humans, so it is very important that you contact a professional if you think that you have bats in your home. In addition, if you come into close contact (or are bitten) by a bat, you should always seek medical attention immediately. Bats can carry rabies which can be dangerous to humans. Minnesota Wild Animal Management Inc. can safely and completely remove bats from your property and repair the damage that they leave behind.
Removing Bats From Your Home Safely
Minnesota is home to two species of bats that may attempt to gain access to your home – the little brown myotis and the large brown bat. These bats can enter through any small open area of your siding, roof line, chimney or vents. Like mice, bats can fit through a hole much smaller than you would ever expect, so you may not be able to locate the entry point on your own. Our wild animal specialists can locate these tiny entry points and ensure that they are patched or covered so that additional bats (or other critters) cannot enter in the future. We work to safely and humanely get bats out of your home if at all possible so that you can return to normal ASAP!
Bats can live in your chimney, attic, walls, eves or siding and can actually cause damage to your property. Bats reproduce and before you know it, you can be dealing with quite a problem. Signs that you may have bats in your home include finding droppings in the corner of your attack or other entry point, stains on the walls (from urine), foul smell, and sounds of squeaking or scratching.
24/7 Wild Animal Removal Services in Minnesota
Even if you are not 100% sure and there is any chance you have a bat infestation, contact our team for assistance. We are considered an essential business in Minnesota and have been working non-stop during the COVID-19 crisis. We have developed contact-free procedures including estimates and payment, so that you do not have to be concerned about an increased risk of infection. In addition, we are also thoroughly cleaning and disinfecting all equipment in between each client as well. We realize that a bat problem may not happen during normal business hours, so you can reach us anytime, 24/7 at 763-232-7296 or 612-237-8282.