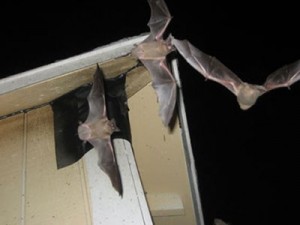 Have you found that your attic has been made a home for bats this winter? Have you paid a visit to your attic only to find that you can't actually go in for fear of the little creatures who have taken refuge there? If you're housing bats, no matter how long they've been there, it's imperative that you take the necessary steps to remove them from your home as soon as possible. Although many homeowners don't realize it, bats can cause serious damage to a home, especially when living in one space for months on end. If you have bats in your attic, you're in need of the Minneapolis, MN bat removal experts at Minnesota Wild Animal Management Inc. We know how to find and remove bats from your attic safely and quickly, repair damage caused by bats, and prevent bats from re-entering your home by repairing damage and sealing entrances to your attic. Once that's complete, you can count on having a bat-free attic!
Finding and Removing Bats from Your Attic
One of the simplest tasks we have as bat removal experts is finding the bats in your attic. We've been at this for years, so we know where to find bats, when to look for bats and try to remove them from your home, and how to safely remove bats without damaging your property or bringing harm to ourselves or anyone else in your home. Because bats can carry several harmful diseases, it's important to hire the experts to take care of your bat removal needs for you rather than trying to tackle the task on your own. That way, you can avoid contracting rabies, Histoplasmois, or other diseases carried by bats.
Repairing Damage from Bats
What many homeowners don't realize is that bats can leave significant damage behind in a home, especially if they're left to live in one space for long periods of time. Bats will leave droppings, just like any animal, and these can begin to build up, along with bat feces, creating damage to your insulation and other areas of your attic. It's important to repair the damage caused by bats both to prevent bats from re-entering your home and to make sure your attic is stable and clean – and free from any disease or other harmful substances bats can leave behind.
Preventing Bats from Re-entering Your Home
Once we've removed the bats from your attic, we'll focus on preventing bats from getting back in. That means closing off areas where bats can easily enter and exit your attic, including gaps in roof lines, roof overlaps, chimneys, vents, and other nooks and crannies. For a bat removal company in Minneapolis, Minnesota you can trust to completely remove your bat problem and help you keep bats out of your home in the future, contact Minnesota Wild Animal Management Inc. today at bat exterminators today at any of our services numbers: 612.237.8282; 952.881.6662; 651.633.8600, or 763.785.1414, or call us at 612.237.8282 for emergency bat removal service.