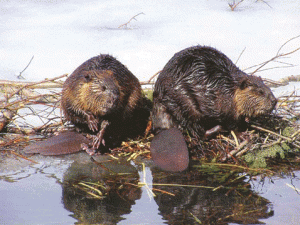 Beavers may be cute animals from a distance, but having them on your property is a different story. The issue with having a beaver dam on your property is that it could end up leading to significant damage. Damage to your home or property isn't the only thing that you have to worry about when it comes to handling a beaver dam. Leave the removal of this beaver dam up to the professionals. If you live in Coon Rapids, Blaine, Anoka, Andover or Ham Lake, Minnesota and are in this predicament, our beaver dam removal experts at Minnesota Wild Animal Management Inc., are ready to help!
Dangerous Parasite
Another big issue with coming into contact with beavers is that they carry a parasite known as Giardia. This parasite can contaminate water where you or your kids may play on your property. If contracted by humans, this parasite can cause flu-like symptoms such as cramps, diarrhea and a high fever. These animals are surprisingly large and can weigh between 30 to 75 pounds, making them very difficult to trap without the proper equipment and experience. That is why a partnership with our dedicated team at Minnesota Wild Animal Management Inc., is so important!
Humane Removal Process
Since those beavers are such cute animals, making sure that they are humanely removed from your property should be a priority. By leaving the removal process up to our beaver dam removal specialists, the beavers on your property will be carefully removed so that they are not harmed during the process. Even if you need our 24 hour emergency service, we will still take the necessary measures to ensure a humane removal. Thanks to more than 35 years of removal experience, we have mastered this process into 5 easy and efficient steps. These include:
● Initiate the Request – Pick up the phone as soon as you can if you have a beaver dam on your property. Quickly, we'll get one of our team members over to your property.
● Thorough Inspection – Once we arrive, we'll inspect every inch of your property to ensure that all beavers are accounted for and any damage is identified.
● Humane Removal – Next, the removal process occurs and all beavers will be handled with care.
● Repairs – If these beavers caused any damage to your home or property, our repair team can handle all of the repairs that are needed.
● Keep them Away – Once the beaver dam is removed and all repairs are addressed, we'll apply preventative measures to ensure that they don't return to your property in the future.
If you have found a beaver dam on your property, it is important to get it removed as quickly as possible. Serving Coon Rapids, Blaine, Anoka, Andover & Ham Lake, MN, our dedicated team at Minnesota Wild Animal Management Inc., can handle your beaver dam removal needs from start to finish. Give us a call today at (612) 237-8282 to get the process started!