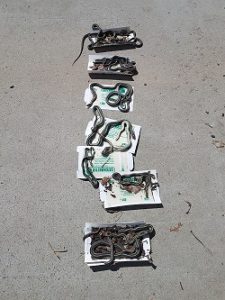 It may come as a surprise to you to know that people still have encounters with snakes in the winter months… just not outside in your yards, where you might expect them, but rather, in the basement or other out-of-the-way space in your home or business. Just like humans, snakes don't like to be outside in the winter months. They seek warmth to hibernate. In Minnesota, that usually means until late March or April. Most snakes will burrow down in the ground, under rocks, or in residential crawl spaces to hibernate, but some snakes have found their way inside during the late fall and are now hibernating indoors. So, what can you do? What should you do? At Minnesota Wild Animal Management, we want to put your mind at ease and give you some pointers on how to handle this situation, should it arise:
First Off Fear Not! It's Likely Not Poisonous
This perhaps is one advantage to living in the northern part of the US. Most species of snakes that live in this region are non-venomous (with the exception of the Timber Rattlesnake, found in the bluffs area in the southeastern part of the state). Also keep in mind that snakes, by nature, are also not aggressive unless they feel threatened. So, how you approach the snake has a lot to do with your success at ridding yourself of the threat. If you do end up getting a bite from the snake, chances are likely that it will pose no threat to your health and will be more of a nuisance.
Getting The Snake Out Of Your Home Or Business
Of course, few people are comforted with the knowledge that a wild snake has taken up residence in their home or business. You have a few options, however. Knowing that the snake is in a state of hibernation, you could likely leave it be and it will not be a bother. As it awakes, it will make its way out in search of food. What it will eat within the home would be no more than a spider or two… a win, win situation.
If you do want to rid yourself of the snake, you don't have to handle it. Allow the trained professionals at Minnesota Wild Animal Management to come in and humanely and safely remove the snake from your home or business. We have a team of trained handlers that know what they're dealing with and the best way to remove the snake to ensure everyone's safety. Call us day or night for immediate service at (612) 237-8282.