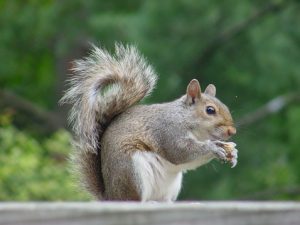 Whether you love them or hate them, the common gray squirrel can be quite a nuisance when they get inside of your home. Tree squirrels love to play in the yard, raid bird feeders and jump from tree to tree. But, squirrels nesting in your attic, walls or chimney is cause for concern. Squirrels can be very sneaky and determined to get inside of a house or business. Getting them out can be much easier with the help of a trained gray squirrel exterminator from Wild Animal Management, Inc. We use proven methods to locate, trap and remove the pests in a humane manner. Our gray squirrel removal and prevention experts work hard to make sure that your squirrel problems will be over as quickly as possible.
Understanding MN Gray Squirrels
Some of the most common wildlife species in Minnesota are the eastern gray squirrel and eastern fox squirrel. Eastern fox squirrels are also thrive in an around Minnesota's suburban areas. Although squirrels can be stubborn, troublesome pests, they can also be described as intelligent and persistent. Squirrel antics can be very entertaining to watch as long as they are outside where they belong.
• Eastern Gray Squirrel also known as Sciurus Carolinensis, bushy tail squirrels or tree squirrel.
• Eastern Gray Squirrels Appearance – predominantly gray in color, belly color is white or brownish, big fluffy tail can be a variation of light gray and brown, ears are often rust colored and tipped with white. Black and albino squirrels are also color variations related to gray squirrels. Gray squirrels are the largest type of tree squirrels in the area with a body length of 8" to 10" (not including the tail).
• Eastern Fox Squirrel aka Sciurus Niger has a similar appearance to the gray squirrel but is smaller and has a reddish/brown/orange coloring.
• Gray Squirrels mate two times per year with each litter yielding 2 to 5 babies that are independent at 12 weeks of age.
• Tree Squirrels commonly make their home in hardwood trees but your home may also be a tempting place to build a nest and multiply. Squirrels can enter the structure through roof vents, eaves, soffits, fascia, siding, chimney or foundations.
Squirrels Nesting Inside Minnesota Homes
Once inside of a home, office or commercial building, squirrels can create lots of problems. Gray squirrels can do lots of damage in a short amount of time if they are not exterminated quickly. Attics, walls and chimneys attract squirrels and can become breeding areas. Since squirrels love to chew they may chew through wiring, wood and insulation, leaving squirrel droppings and urine behind. Gray squirrels often are carriers of fleas, lice and parasites that can also infest your home.
Squirrel Removal and Prevention Experts
Squirrel removal and prevention experts at Minnesota Wild Animal Management, Inc. use humane methods to manage squirrel problems for our customers. If you suspect that squirrels have entered and damaged your home or commercial structure, don't hesitate to call a gray squirrel exterminator to eliminate the threat to your safety and property. Squirrels may be determined to get in but our squirrel management team is more determined to keep them out.
Minnesota Gray Squirrel Exterminator
For fast, friendly, professional Squirrel Removal contact Minnesota Wild Animal Management at (612) 237-8282 * (763) 785-1414 * (952) 881-6662 * (651) 260-7378
After Hours Emergency Hotline# (612) 237-8282