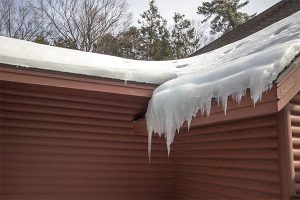 As the temperatures start to fall here in Minnesota, you likely are beginning to think about all the fun things we have to look forward to here in this great state! The beautiful snowfall, the wonderful time with friends and family AND ice dams! At Minnesota Wild Animal Management, we're proud to offer ice dam prevention to ensure your home is protected from the dangers of ice dams this winter! Reach out to our team today to learn more about scheduling this service for the upcoming season.
What are Ice Dams?
An ice dam is a raised piece of ice that typically forms at the edge of your roof that prevents snow that's melting from running off your roof. As the snow melts, this ice dam is formed which can then lead to major problems on your roof including roof leaks and ultimately structural damage if not addressed quickly.
Ice dams are often caused by poor insulation and inadequate ventilation in the attic space, which causes the roof decking to heat up and melt the snow on your roof. This causes the melting snow to get stuck behind the ice dam and make its way under your shingles and into your home.
Importance of Ice Dam Removal
Ice dam removal helps to prevent your roof from becoming damaged due to ice dams. This in turn helps to extend the life of your roof and keep your home protected throughout the late fall and winter months. Ice dam removal can be a complicated process and it's something that shouldn't be attempted unless you're extremely careful and highly experienced. At Minnesota Wild Animal Management, we use a variety of techniques that keep our employees safe while keeping ice dams from forming on your roof.
Invest in Ice Dam Removal Packages
One of the new offerings we're most excited about is our ice dam removal packages. You're able to purchase these packages in advance of any major snow event here in Minnesota. These packages will lock you into a lower price for ice dam removal and if you don't use all of your visits this year, they'll roll into next year for no additional cost. This way you're able to save a bit of money and we're able to better predict cash flow through the winter months. Feel free to reach out to our team to learn more about our ice dam prevention & removal packages.
Contact Minnesota Wild Animal Management Today to Learn More About Ice Dam Removal
At Minnesota Wild Animal Management, we'd love to be your go-to contractor for ice dam removal this winter season. To learn more about our offerings, give us a call any time at (612) 237-8282.