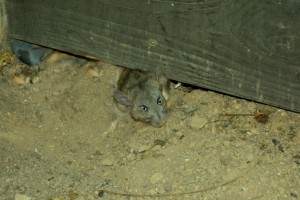 Okay, we'll give it to her. Cinderella had an uncanny way of making little mice look adorable. While we can't guarantee that you won't have an ugly stepsister living in your home, we can promise you that the mice rummaging through your home do not make clothes or wear cute little shirts. Nope, if mice are in your home they will cause destruction and you will be crying bippity boppity boo-hoo tears all the way to your fairy Godmother who can turn pumpkins into carriages, but still can't get rid of the mouse problem in your home. If you are dealing with mice, let Minnesota Wild Animal Management, Inc., be your fairy tale come true. Serving Minneapolis and the surrounding areas, we are here to remove your pests so that you can live happily ever after.
Deer Mice in Minneapolis
Deer mice are relatively common complaints in Minneapolis, MN. They are given that name due to their white under-belly that resembles that of a deer. While no mouse in the house is ever a great thing, there are specific disadvantages when it comes to deer mice. Like squirrels, these mice are quick on their feet and can climb great heights and lengths. This makes them generally harder to deter and harder to get rid of. Additionally, these mice carry a harmful virus called Hantavirus. This virus is transmitted through their urine and fecal matter. However, you don't even have to touch it to catch the virus. Humans can catch it just from inhaling the dust in the home that contains the matter. While initially starting as a slight cold or flu-like symptoms, Hantavirus can become deadly in 50% of human cases if it gets into the lungs. Long story short, if you suspect that deer mice are within your home, it's time to call the exterminator.
Mice Evacuation
If you suspect deer mice or any other mice for that matter, it's important that you call a professional right away. At Minnesota Wild Animal Management, Inc., we are just a phone call away. One of our highly trained and professional experts will meet you at your home and examine the issue. We will identify the specific type of mice you have and determine the best solution to eliminate the problem. We will then carry out our extermination, sanitize any infested areas that may have been exposed, and take it one step further with preventative measures to ensure that this does not happen again.
So if you have a mice infestation problem, don't just wish upon a star. Call your Minneapolis professionals at Minnesota Wild Animal Management, Inc., today at (612) 237-8282.