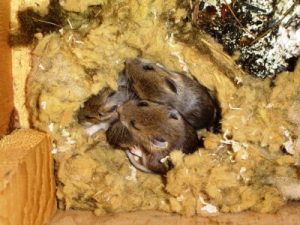 Eeeek! Professional mice removal and prevention services may be just what you need if you have discovered mouse droppings or a critter with a long tail and beady little eyes staring back at you. Minnesota Wild Animal Management has a team of dedicated professionals who aren't afraid to track down and remove an entire mouse infestation from your home or business. Mice removal and prevention experts know how to get rid of mice completely and prohibit their return to the property. A mouse can enter through a tiny little space the size of a marble. Once inside, they can multiply quickly and cause considerable damage to wiring, pipes and insulation and make your family sick.
Hazards of Mice Infestation
Having a rodent problem on your property can be a real nuisance. The hazards associated with mice infestation are often times worth all efforts to get them gone once and for all. Pest control and mouse removal professionals can tell you of some of the many problems that can happen when you have an unwanted mouse infestation.
• Contaminate food
• Chew threw electrical wires
• Damage furniture
• Eat pet food
• Dig up plants
• Leave mouse droppings
• Damage wooden structures
• Soil and chew insulation
• Fire hazard from chewed wires
• Damage to vents, HVAC units, walls, attic spaces
Human Diseases Caused by Mice
Mice can create a real public health concern from the diseases that they can transmit to humans. A mouse may have parasites and could contaminate the food supply. Illnesses caused by contact with mice or mouse droppings include:
• Salmonella
• Leptospirosis
• Rat-Bite Fever
• Tapeworms
• Plague
• Lassa Fever
• Hantavirus
Commercial Mice Removal
Ridding any residential or commercial property of mice takes skill, knowledge of mouse behavior and planning. At Minnesota Wild Animal Management, our technicians provide a full-scale plan to get the troublesome little creatures out of the dwelling and prevent them from coming back.
1. Inspection to determine where the mice are living, how many mice are in the house mouse population and how they got inside of the home or business.
2. Seal off any opening that rodents can use to access the interior of a building.
3. Trap and remove all mice from the premises.
4. Clean up the damage including removal of mouse droppings and contaminated food.
Get Rid of Rodents Once and For All
In order to permanently rid your property of rodents you have to understand their behaviors. As experts trained in mice removal and prevention techniques that work, your friends at Wild Animal Management, Inc. can help to get rid of mice once and for all. Our proven methods can protect your property, family and others from the many diseases and damages caused by a house mouse infestation.
In Minneapolis MN and surrounding suburbs, schedule an appointment for professional mice removal services by calling the following number: (612) 237-8282.
For Wild Animal Emergencies day or night call: (612) 237-8282