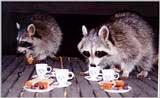 The warm weather in Minnesota should be here to stay shortly. Just like humans, the local wildlife in Minnesota also enjoy being out and about in this beautiful weather. All sorts of animals that have been trying to stay warm through the frigid winter months are now seen more frequently enjoying the spring weather!

Although some of these animals may be fun to look at, it is in your best interest to protect yourself and stay away as they can be very aggressive this time of year. If you have seen wildlife hanging around your home lately, give Minnesota Wild Animal Management Inc. a call to provide you with wildlife removal services. Achieve some peace of mind knowing that your children can play outside in the yard without having to worry about them encountering unwanted wildlife.
Our Wildlife Removal Professionals Offer:
Experience – Not many of our competitors can say that they have been a wild animal removal company as long as we have. Our dedicated staff has been providing the citizens of Minnesota with wildlife removal services for over 35 years combined.
Responsiveness – We know that when we get a call from a customer needing wildlife removal services, it is very important to handle the job quickly. Rest assured that your project will be addressed as quickly as possible.
Cost Effective – Providing excellent service is our number one priority. That includes our costs. Taking advantage of our customers is not a practice we want to be involved in. You will find that our wildlife removal prices are affordable and extremely competitive.
24 Hour Emergency Service – There may be times when an animal invades your home and you need immediate assistance. No need to worry! By contacting our emergency service line, we can handle the wildlife removal with extreme quickness.
5 Step Wild Animal Removal Process
Make the Call – The minute you notice the wild animal, give our team a call.
Inspect – Next, one of our staff members will come to your residence and provide you with a thorough inspection of the interior and exterior of your home in search of these animals.
Remove – Humanely removing these animals is our primary focus. Relocating them into a different environment is a great option for these animals.
Repair – Quite frequently, damage is done to your home when these animals linger around your residence. Our staff can handle these repairs as well.
Prevention – What is the point of removing if these wild animals are just going to come back? We provide preventative steps to make sure that these wild animals are not seen around your home again.
Minnesota Wildlife Removal Experts
So, if you are currently dealing with wildlife in Minnesota that needs to be removed from your home, contact Minnesota Wild Animal Management Inc. Give us a call today at (612) 237-8282 to learn more.