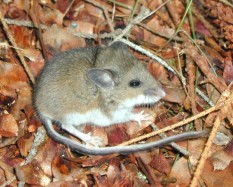 Why did the mouse stay inside? Because it was raining cats and dogs! Funny or not, as the cooler weather comes into Edina, MN, we are getting more and more calls in regard to mouse control. That's right. The weather is bringing all of those mice indoors, and once they are in, they are there to say. That is unless you call Minnesota Wild Animal Management Inc. Providing mouse control and removal services for commercial and residential properties in Edina, MN, our team at Minnesota Wild Animal Management Inc., gets the mice out and keeps them out for good!
Mouse Control
So let's just assume that you already have seen that pipsqueak crawling around your floors in the wee hours of the morning. We are glad you called! While no one wants to see a mouse in their home, the important next step is to be as proactive as possible and go ahead and call professionals. Mouse control is hard to tackle once they begin to multiply. Mice tend to reproduce at an exponential rate, making mouse removal extremely hard. Mice roam the attics, foundations, and even walls, causing lots of damage that is incredibly costly to repair. Therefore, calling us for immediate mouse removal is your best option! Our process is simple. We will inspect the area and look for ways to perform mouse control. Then, operation mouse removal is underway. Once we remove the issues, the real work begins. We want to ensure to you that you have complete protection even after we've gone.
Mouse Prevention
So, what's the best way to keep a wild animal out? Generally, sealing and repairing will do the trick! After we treat a home, we don't want to hear from you again unless it's with a holiday card! After mouse removal, we will repair your home for ultimate mouse prevention. This means that we will repair the damage they have done and patch up all entry points in which they may have first entered your home. We offer a two year warranty, the strongest in the pest control industry, to give you peace of mind that your home is completely set up for mouse prevention.
Don't let one mouse turn into hundreds of mice. For more information on mouse control in Edina, MN, call Minnesota Wild Animal Management Inc., today! Offering 24/7 emergency services, call us today at (612) 237-8282 and get your home pest-free as soon as possible!