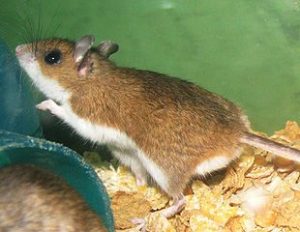 Did you recently open your pantry up and find an unexpected visitor? Did you notice a mouse racing across your kitchen floor late at night? The bad news is that if there is one mouse in your home, there could be others that you just haven't found. A mouse can invade your home through the tiniest spaces. In fact, they can enter through a hole as small as a marble. Ignoring the fact that a mouse is in your house is the worst thing you can do. Rather than trying to catch the mice on your own, consult a mouse removal professional that will get it done right the first time around. Serving Minneapolis, MN, our team at Minnesota Wild Animal Management, Inc., know all of the tricks that a mouse tries when they hide in your home. We're committed to removing these mice from your residence in a humane way.
A Mouse Can Lead to Damage
One of the reasons why you don't want to ignore the fact that a mouse has invaded your home is because they can cause damage to your property. It doesn't take much food or water for a mouse to survive. A mouse isn't just in your home staying warm. If given the opportunity, mice can cause structural damage to your home. Chewing on wiring, insulation and damaging your furnaces or attics are common issues that a mouse can cause. Mice can live in your attic, foundation and even walls if you give them enough time to settle into your home. The quicker you call our professional mouse removal team, the less likely that there will be damage to your home.
Carry Diseases
Another reason why having a mouse in your home is not ideal is that these animals can also carry diseases and parasites, which can be transferred over to humans. The most common diseases that a mouse carries are salmonella, also known as food poisoning, and ringworm. The last thing that you want is for one of these diseases to be transmitted to one of your family members or even your pet.
Multilevel Mouse Removal Process
At Minnesota Wild Animal Management, Inc., the mouse removal process is only one step of our process. We offer the total package when it comes to mouse removal. First, we'll provide you with a detailed inspection of your home to make sure that every mouse is identified. Then, we'll remove these unwanted critters from your residence. If any damage was caused by the mice, we'll handle this aspect of the job for you as well. Lastly, we'll put preventative measures in place to ensure that these mice don't return to your home in the future.
The minute you find a mouse crawling around your Minneapolis, MN home, it is critical that you pick up the phone and call our mouse removal professionals at Minnesota Wild Animal Management, Inc. To learn more about our mouse removal services, give us a call today at (612) 237-8282.