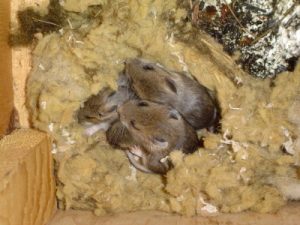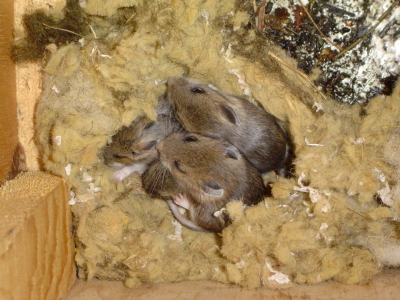 Avoiding mice  from getting into your home can be really difficult, especially if you live in an older home in St Paul. Oftentimes food, and warmth attract these small rodents into your home. Older homes are especially vulnerable to mouse invasions. Living in areas that are close to where many animals inhabit can also be a predictor for invasions. The cold winters in St Paul make animals pursue locations to get out of the cold and if your house looks like a desirable place they will come to you.
Mouse Home Invasion
The most common invasion is mice and other rodents. These animals are able to enter your home through cracks that are the size of a marble, so even if you believe your home is structurally sound and animal proof, it is easy for these animals to find a way though. Also, vents are another great way for animals to get into your home. And of course, we cannot forget about the commonly forgotten chimney.
Mice Cause a Lot of Property Damage
A mouse is one of the most common critters that invades homes. Do to their small size and breeding patterns, mice are able to squeeze through small holes around your home and keep their population up because of their ability to breed often. Once you notice these pests it is important to take action immediately so they do not continue to breed and get out of control. Also, mice cause a lot of damage to property and the longer they are in your home, the more damage you will have. A mouse can sustain life on little food and eat almost anything. If these rodents are not physically removed, then it means they are certain to still be around.
Mouse Problems Include Structural Damage
Damage that will occur if you have a mouse problem include structural damage, dame to your wiring, air conditioning units, furnaces, attics, insulation and can even cause electrical damage. Rodents are a huge nuisance and can be very costly if not properly removed.
Mice Carry Diseases
Furthermore, mice carry hantavirus. Hantavirus is carried by rodents, who are not affected by the disease and affects humans through rodent' urine and droppings. Humans can be infected with this virus by breathing in Hantavirus and this is fatal to humans. Fatal Hantavirus is only found in the North and South America and properly managing rodent populations is necessary to ensure that humans are not impacted by this disease.
Mouse Removal St Paul, MN
MN Wild Animal Management Inc. is here to help St Paul residents with their mice removal needs. With over 35 years of experience, we know how to handle all types of animals and how to remove them in a humane way. Also, we take our time to inspect your home and take preventative measures to reassure you that your home will not have future problems. Life can be very busy and we understand this and that is why we are here to work with you. We are friendly and flexible and here for you.