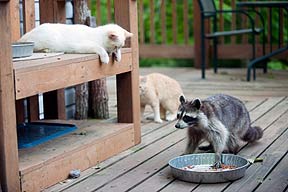 As the human population in the Minnesota area has exploded, we are having more and more encounters with wildlife whose habitats were invaded.  New housing developments are popping up everywhere you turn, and the wildlife are displaced. Therefore, you may find yourself sleeping with bats in your attic, skunks on your back porch, and mice nestled comfortably in your walls. Minnesota Wild Animal Management Inc. specializes in the humane removal of all types of creatures that may be invading your Plymouth, MN property. If you see signs that you and your family are not the only ones living in and around your home, call our team today for safe and fast wildlife removal services.
Wildlife Removal Services for Plymouth MN
Minnesota Wild Animal Management Inc. can handle all aspects of wildlife removal including assessment, humane treatment and damage repair once the process is complete.  We can remove the following creatures from your Plymouth property:
Bats
Beavers
Birds
Chipmunks
Gophers
Mice
Deer Mice
Moles
Rabbits
Raccoons
Skunks
Snakes
Squirrels
Woodchucks
Others
Wild Animal Removal Process
If you think that you may have a problem with creatures in and around your home, call Minnesota Wild Animal Management Inc. as soon as possible to help resolve the situation.  We can handle your problem immediately without a long waiting period.
The process for wild animal removal will follow these five simple steps:
Contact our team: Call our wildlife removal experts at (612) 237-8282, and we will find a time to meet that works for your schedule. A team member is available 24/7 to meet your needs.
Identify the problem: Our team will come to inspect your home quickly, at your convenience, and determine how big (or small) the problem. They will locate nests and come up with a plan to eliminate the problem as soon as possible.
Wildlife removal: Once you are comfortable with our plan, our team will remove all pests in a safe and humane way.  We are very familiar with the common pests in Minnesota and use the best possible methods to rid your property of their presence.
Damage repair: These creatures can do significant damage to your home or property and our team is trained to repair any damage left behind.
Prevent future problems: We stand behind our work and guarantee that you will not have additional problems with the wildlife that we remove from your property.  We offer a two year warranty on each of our jobs.